Golden Dutch age painting
Dutch golden age painting refers to a period of art that emerged in the 17th century. From a historical perspective, the nation of Netherlands was one of the leading nations in Europe at this time after a seemingly endless period of warring and revolting. The Dutch nation was particularly progressive and wealthy at the time. With a stable political arrangement, they experienced tremendous advancements in science, commerce, and art. During this period, the arts that were created were typically centered on religious subjects and themes. It is often expected that art is reflective of the prevailing socio-cultural and political milieu. However, the prosperous nation soon began to experience wars and unrest. The cultural status-quo which was an intricate blend of what could be called a religious-monarchy soon began to fall apart. Consequently, there were significant changes in the artworks that aware created at the time.

Dutch golden age art which was formerly centered on religious themes soon gave way for a much more secular form of painting. One of the interesting aspects of Dutch golden age painting was that it offered an extensive range of painting genre. History painting, portrait painting, Scenes of everyday life, landscape, seascapes, still life and many more forms of painting were common at this time. This era saw the emergence of many celebrated Dutch golden age artists who created some of the most famous Netherlandish artworks. The movement from religious-themed paintings gave room for other forms of paintings such as realism. Realism became a prominent form of painting at the time in which events and situations were depicted in the most natural and authentic form.
Many notable Netherlandish golden age artists are renowned for creating famous Dutch paintings. Some of the prominent names and their incredible artworks are contained below:
Johannes Vermeer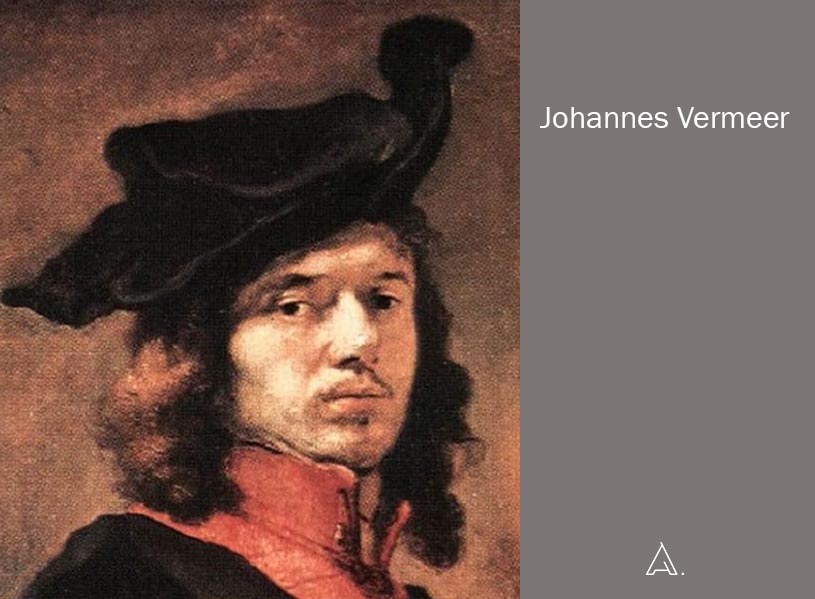 Image via https://www.rivagedeboheme.fr
It is virtually impossible to explore Netherlandish painting without mentioning the name Johannes Vermeer. Johannes Vermeer is a celebrated artist who is reputed for creating indoor paintings of a home. While there is uncertainty about where Johannes trained and where he gained his expertise, it is worth mentioning that his style of painting shares striking similarities with Utrecht Caravaggists. His painting technique adopted monochrome grey shades or dead coloring which were the pervasive painting techniques at the time. The Lacemaker is one of Vermeer most celebrated works. It adopts an unusual use of light and shade for a striking artwork. The Procuress, Girl with a Pearl Earring, The Milkmaid, Girl with a Red Hat, The Art of Painting and View of Delft were some of his best creations. This is one of the most mysterious Dutch golden age artists as not much is known about his life. However, it is widely acknowledged that Vermeer spent time executing his works. He is known to be a meticulous artist.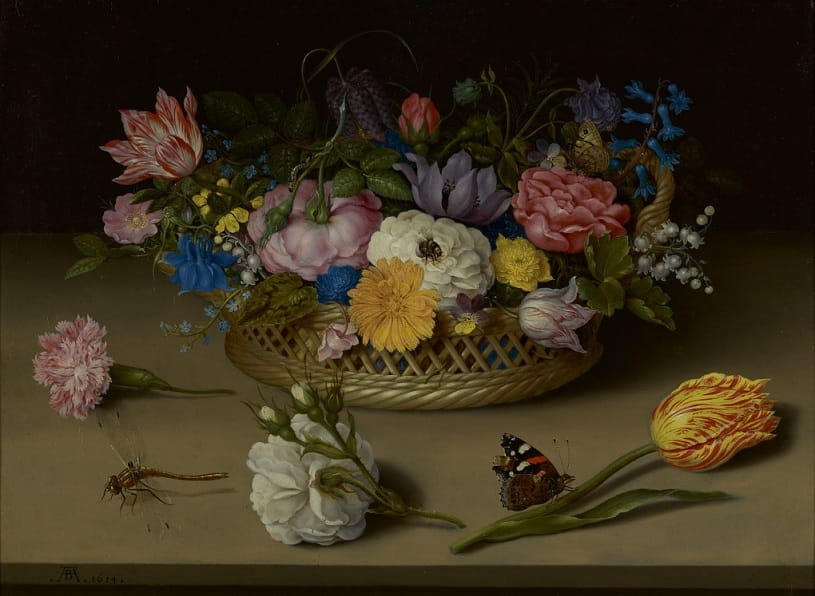 Image via http://www.getty.edu
This Dutch artist is famed for painting flowers. Born in Antwerp, Ambrosius is one of the great artists of this time that was known for still life painting. He displayed an exceptionally brilliant style of painting flowers which is evidently seen in the fact that his flower paintings were proportioned with incredible accuracy. His works are some of the earliest Dutch still life painting that offers an incredible catalog of stunning flowers bouquets. Owing to the economic prosperity of I1th century Netherlands, Ambrosius was largely successful from his art form. Ambrosius will forever be remembered for his expertise in the floral art genre. Interestingly, his sons were also artists as well. Undoubtedly, this artist is regarded as one of the fathers of Holland still life painting.
Rembrandt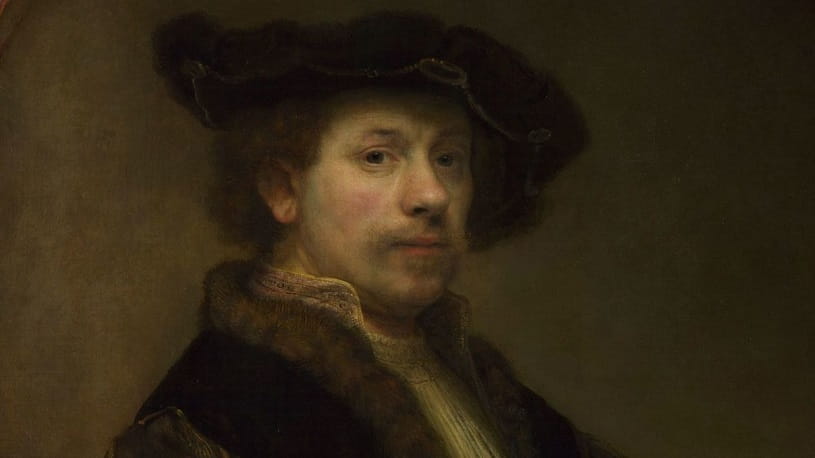 Image via http://www.latimes.com
This creative maestro had incredible abilities as a visual artist and a draughtsman and printmaker.in addition to his accomplishments as a visual artist, it is worth mentioning that he had incredible abilities in the area of the technical drawing. He could draw technical designs of equipment, machinery and other kinds of structures and contraption. However, Rembrandt is remembered for his accomplishments as a visual artist. Rembrandt was one of the most famous painters of the Dutch golden age art. He created many powerful artworks on realism and others that focused on the religion. He created the return of the prodigal son in 1669, Danae in 1636, The Storm on the Sea of Galilee in 1633, and The Anatomy Lesson of Dr. Nicolaes Tulp in 1632.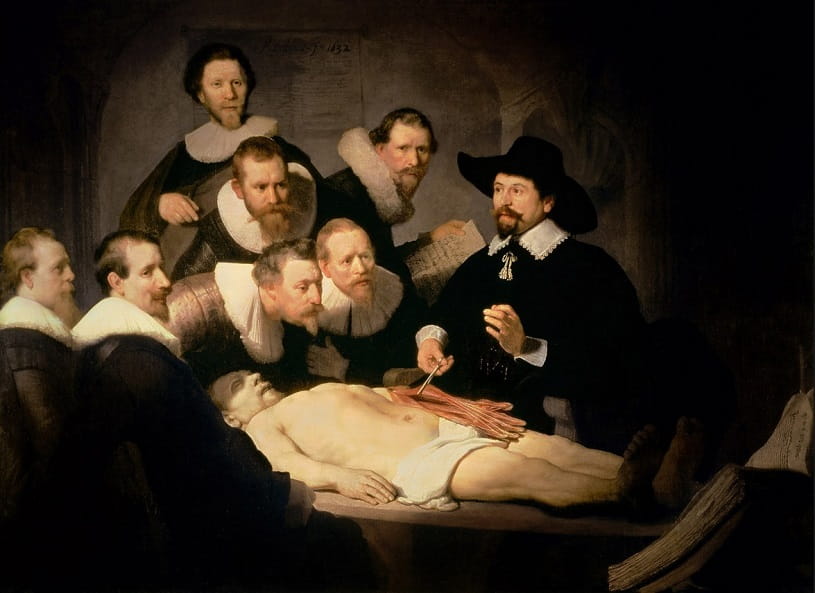 Image via https://www.rembrandthuis.nl
He adopted a dynamic painting style that brought most of the characters in his paintings to life with powerful expressions. Of all his creation as an artist, he is remembered for his painting of the Night Watch in 1642. This life-size fresco is regarded as one of the most famous Holland paintings of this time. Amongst other things, Rembrandt is revered for his powerful self-portraits and the portraits of many of his contemporaries which he painted in stunning accuracy. Rembrandt is equally known for his religious-themed paintings which were regarded as the highlight of the Hollander golden age painting era.
Werner van den Valckert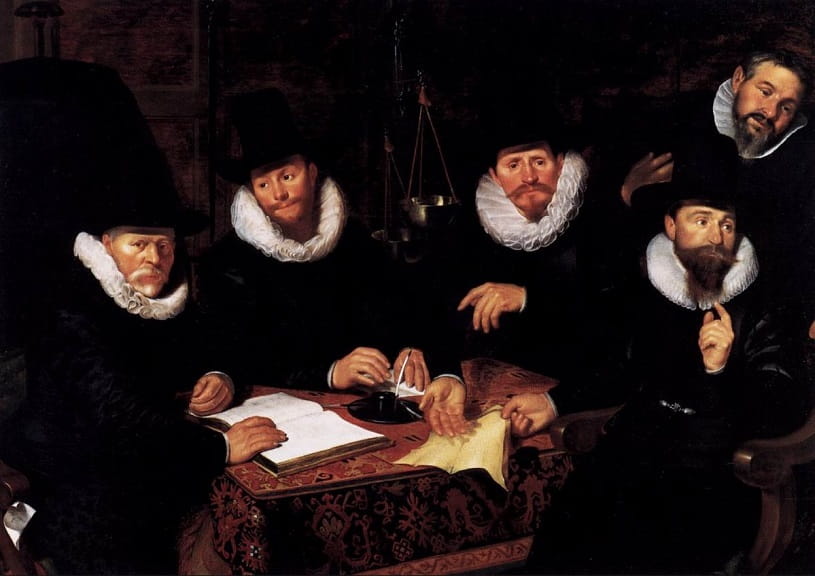 Image via https://commons.wikimedia.org
Werner van den Valckert is one of the Dutch golden age painters and he was known for his mastery in the genre of historical allegorical artworks. A fool with a smaller fool in his sleeve, A Man Cutting Tobacco, Portrait of a Man with Ring and Touchstone and Sleeping Venus were some of his most impressive artworks. While not much is known about the life of Werner van de Valckert, it is an established fact that he was a father and that he was a member of the Guild of Saint Luke.
Hans Gillisz. Bollongier
| | |
| --- | --- |
| | |
| Images via https://en.wikipedia.org/ | |
Just like Ambrosius, Hans Gillisz, Bollongier is reputed for his love of tulips. While there isn't any relevant information on his childhood and early life, his contributions to Dutch golden age art cannot be overstated. As an artist, he was responsible for creating some of the most fascinating flower paintings. One form of painting that was pervasive in Dutch golden age painting is the still life painting and Hans Gillisz Bollongier is one of its fathers.
Pieter Jansz. Saenredam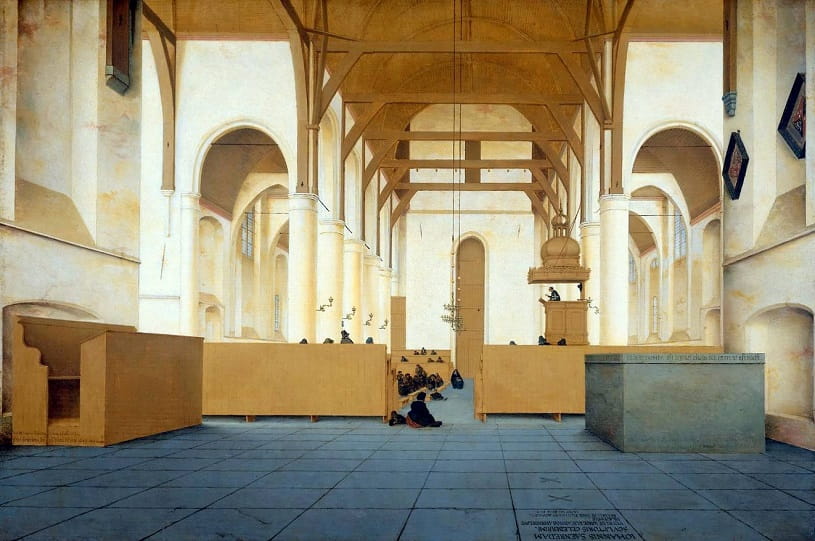 Image via https://en.wikipedia.org/
This artist was a respected figure in the Dutch republic 17th century. Pieter Janz Saenredam had a specialty for painting whitewashed church insides. Interestingly, Pieter Jansz Saenredam's paintings were accurate measurements. As opposed to creating paintings of buildings out of his imagination, Pieter Jansz was known to create his paintings from existing structures.
Jan van der Heyden
Image via http://mentalfloss.com
Jan van der Heyden's was an expert in the field of glass painting, printmaking and he was a draughtsman as well. However, he is remembered for his contributions to visual art. His work of art could be found within the context of the baroque painting cultural movement. His paintings were entirely focused on townscapes. The accuracy and brilliance of his townscape paintings were such that earned him an incontestable place as one of the foremost architects of the Dutch golden age art. While Jan van der Heyden was celebrated as an innovator with ideas that inspired the creation of modern day firefighting equipment, he remains recognized for his abilities as an architect and as a visual artist Painting of the New town hall in Amsterdam, the town hall of Amsterdam, Room Corner with Curiosities and many more spectacular works solidified his place as one of the greatest artists of Republic Netherlands 17th century.
Rachel Ruysch
Image via http://theconversation.com
The daughter of a Netherlands scientist, Rachel Ruysch had a flair for painting. Her professional career as a painter was centered on still-life painting with the focus of her works being entirely on painting flowers. She had the required training and expertise to deliver astounding artworks. She handled her paintings with an extraordinary level of precision and meticulousness that solidified her place as one of the best female painters of the Dutch republic 17th century. Rachel created many stunning floral artworks. Flowers on a stone slab, Basket of Flowers, Still-Life with Flowers and many other floral paintings were created by Rachel over her lifetime. Rachel enjoyed a lot of fame and admiration amongst her contemporaries. The extent of her fame is evident from the fact that many poets of the time paid homage to her. As a result of her fame and skill, Rachel enjoyed a prosperous professional career in the Dutch golden age economy.
Hendrick ter Brugghen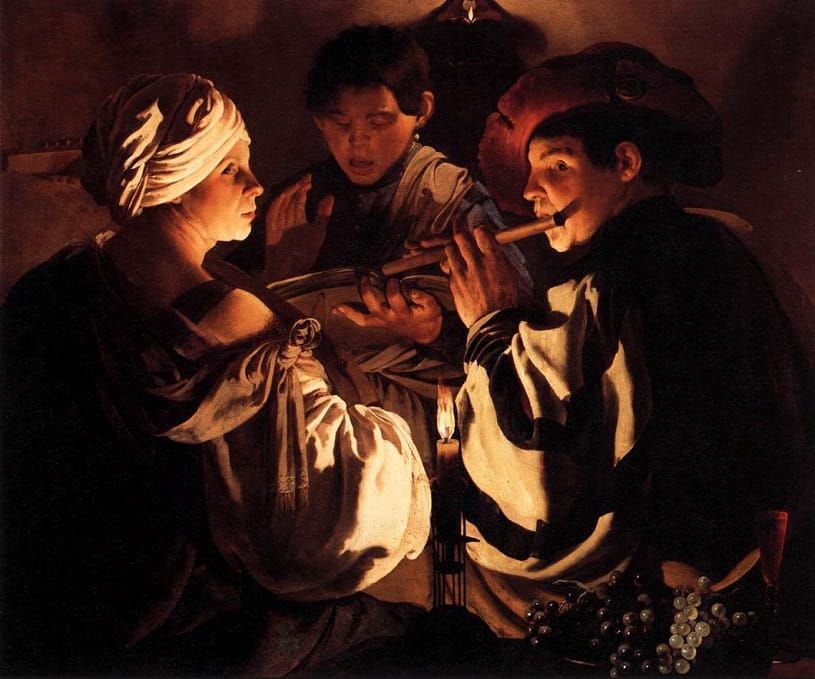 Image via https://commons.wikimedia.org
This Dutch painter is known to create paintings that are centered on religious themes. Hendrick ter Brugghen is a prominent figure when discussing Dutch golden age art. His professional career was characterized by creating many remarkable artworks. It is widely held that his works were largely inspired by the paintings of Caravaggio. Saint Sebastian Tended by Saint Irene, crucifixion with the Virgin and St John, the calling of St Matthew and many more. Hendrick ter Brugghen was a fantastic painter and he also created paintings that were secular like A Laughing Bravo with his Dog, Mars Asleep, The Card Players and many more.
Thomas de Keyser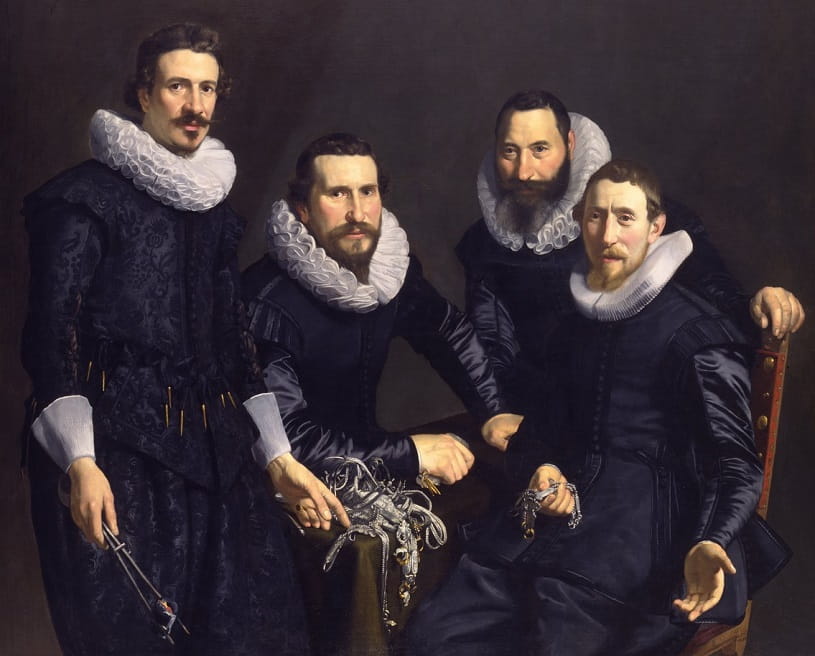 Image via wikimedia.org
Thomas de Keyser's father was a skilled architect and sculptor. Interestingly Thomas de Keyser grew up to become a skilled painter of portraits. While there are no reports on where he underwent training, it is a known fact that he was a student in the Cornelis van der Voort. Thomas de Keyser was one of the most sought-after portrait designers of his time. Thomas de Keyser had a unique painting form which is evidently seen in the effusive golden radiance of color and Rembrandtesque. While painting was a reliable means of livelihood for him at the start of his career, Thomas de Keyser later had to find alternative ways of generating revenue owing to the fact that his paintings were not as lucrative as it once was. He had many incredible works which include, The Company of Captain Allaert Cloeck and Lieutenant Lucas Jacobsz. Rotgans, Frederick van Velthuysen, and his wife, Josina, Frederick van Velthuysen with his Son Diederik van Veldhuyzen, Man on Horseback with a Page and many more.
Jacob Ochtervelt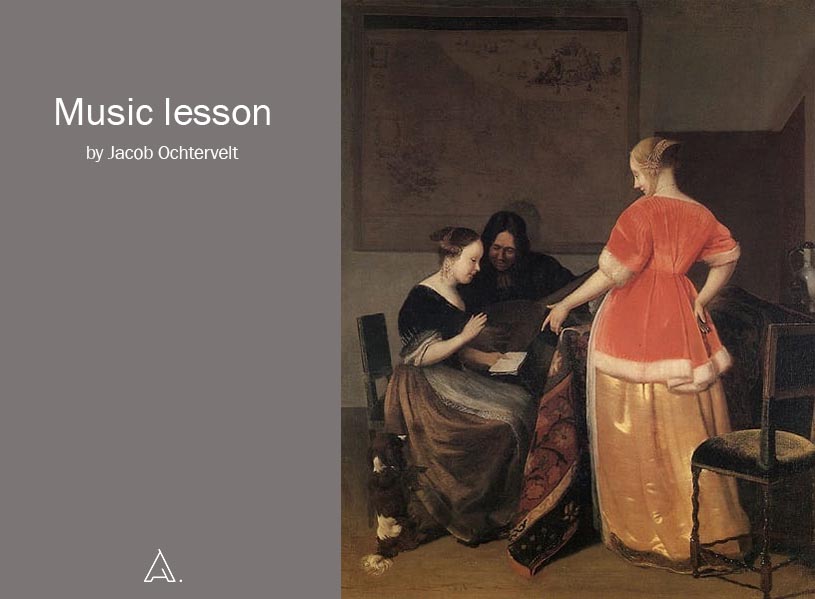 Image via http://experimentsinelegance.blogspot.com
Jacob Ochtervel is a famous artist of Dutch golden age art. Even though he made massive contributions to the Dutch golden age art through is creative works, many library scientists did not seem to have written documents of his works and creativity.
Frans Hals
| | |
| --- | --- |
| | |
| Images via https://ca.wikipedia.org/ | |
Frans Hals adopted a robust and animated painting style with noticeable brush strokes that create fabulous artworks. He lived and did his painting jobs in Haarlem where he helped create some of the most incredible paintings. He had a vibrant professional career as he painted for many affluent people at the time. One of his biggest clients was the Dutch cloth merchant, Pieter van den Broecke. He painted plenty of wedding portrait and his best works were Geertgen tot Sint Jans, Jan van Scorel, and Jan Mostaert. His image as a painter was faded after his demise up to the point where most of his works were sold for miserly amounts. While his image was later revitalized, his works remain an important part of Dutch golden age art.
Adam Elsheimer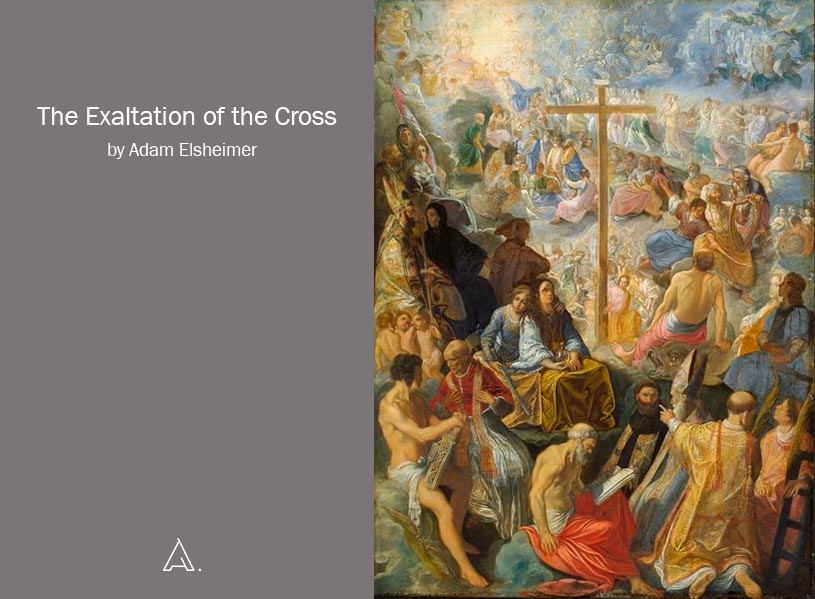 Image via wikimedia.org
Reputed for his mastery of baroque painting approach, Adam was a prominent painter of Dutch golden age art and he inspired many other artists of the era. He was from a large family of ten and was the son of an expert tailor. His creations include The Flight into Egypt, oil on silvered copper, Venus and Cupid, Apollo and Coronis, Latona and the Lycian Peasants and many more extraordinary works. The Exaltation of the Cross from the Frankfurt Tabernacle was one of his most amazing creations. Adam was great in certain areas which included his ability to create powerful night scenes and his incredible prowess when creating lighting effects.
Adriaen van de Venne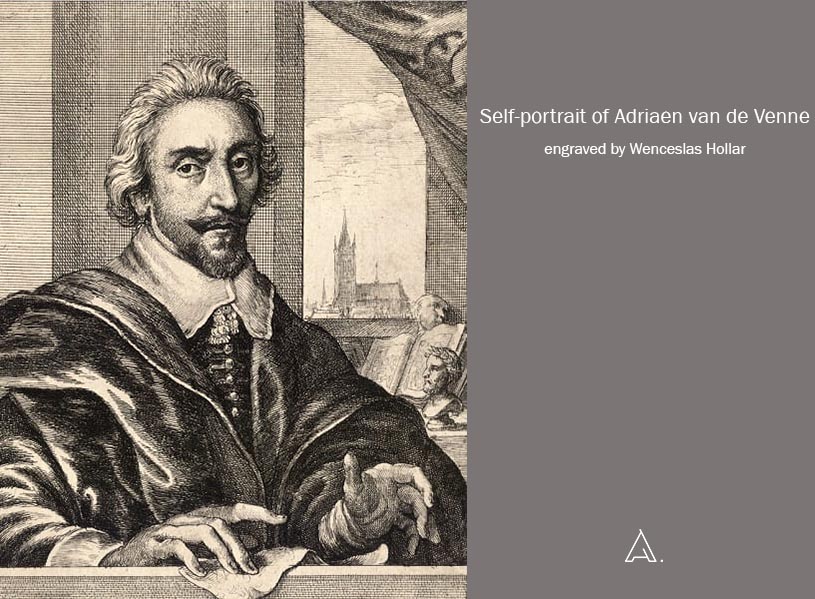 Image via wikimedia.org
A well-rounded artist, Adriaen was actively involved in many genres of art. From satirical paintings to illustrations, Adriaen van de Venne was a master of painting. Amongst his many powerful works are A Dodo in 1626, Woman and a jester, An Amorous Peasant Couple and many other incredible works. One of his best satirical artworks was fishing for souls which captured the deplorable state between the catholic and protestant church in a sarcastic fashion.
Exploring Dutch still life painting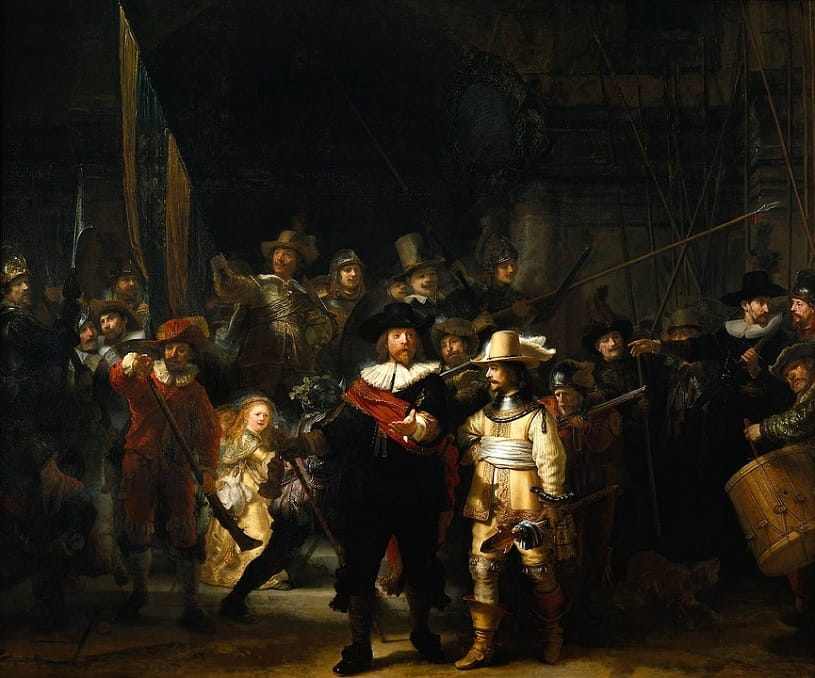 Image via http://www.oeuvres-art.com
Many Dutch golden age artists were known to create some of the best still life paintings. Still-life painting refers to the painting of inanimate objects and the most famous Dutch still life painting was floral painting. Ambrosius Bosschaert and Hans Gillisz. Bollongier were notable artists of the Dutch golden age that was deeply involved in still life painting.
The Dutch golden age of painting could be traced back to the 17th century following a period of war and revolt against the dominance of Philip the second of Spain. Dutch golden age of painting is such that was characterized by economic stability, a strong military, and the explosion of Dutch painting style that was largely secular.
---