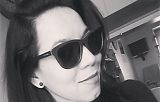 Ana V
3e Arrondissement, France
More artworks by this artist
Jeune Architecte née a Mérida Venezuela, installée à Paris depuis mai 2011 pour continuer sa formation professionnel dans l'architecture d'intérieur et le paysagisme. Passionnée de l'art et la musique ( apprentie du flamenco ) exerce l'aquarelle instinctivement.
Leave a comment
You must register or login
You must be logged in to follow. Please register or login to continue.