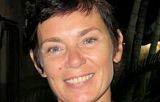 Natasha Pilipo
Barony of Polop, Spain
More artworks by this artist
Certificate of authenticity
Yes
3D Cubes are mixed media concept created by Natasha Pilipo which was developed ten years ago. They take elements of sculpture, photography, painting, collage and mosaic and join them together in a completely innovative art form. All of these individual elements stop being what they were before and start working together as new and unified concept. It is in a way reflection of our time and place where we live, fast moving high-tech world where many borders fade out and we and our surroundings keep on changing. Photos are printed on canvas, precisely cut and assembled on wooden cubes. They are attached on backboards afterwards. All together is painted over and later retouched. Cubes are 6x6cm and they 1, 2 and 3cm high on 16 cubes. Size of backboard is 36x36cm.
Leave a comment
You must register or login
You must be logged in to like or follow. Please register or login to continue.