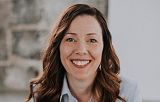 Lyne Carpentier
Montréal, Canada
More artworks by this artist
Je me suis installé dehors pour peindre pendant une journée très chaude et humide. J'ai choisi mes couleurs selon mon humeur du moment et je les ai appliquées à la spatule sur la toile. Lorsque j'ai pris du recul pour la regarder, j'ai eu un sentiment de calme. Son titre est venu tout simplement.
Leave a comment
You must register or login
You must be logged in to like or follow. Please register or login to continue.