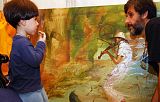 Sergiy Roy
Poltava, Ukraine
More artworks by this artist
The technique of a classical (oil on canvas) the ends of the picture are the continuation of the image. Work can be transported as a roll and a rigid box. (Work wrapped in foil with bubbles) Shipping costs included in the price of the work. Along with the work of authorship is sent a certificate signed by the artist. SHIPPING The painting will be shipped professionally and in a timely manner. I will personally package your painting with great care using high quality materials to ensure it arrives securely. CUSTOM FEES AND DUTIES Shipped from the Ukraine. Customs fees and duties vary from country to country and they are the recipient's responsibility. These fees are not included in shipping estimate. If you have any questions at all please do not hesitate to message me.
Leave a comment
You must register or login
You must be logged in to like or follow. Please register or login to continue.