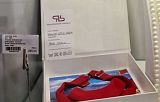 Rada Krivokapic Radonjic
Kotor, Montenegro
More artworks by this artist
Certificate of authenticity
Yes
NOVI MODNI DETALJ U SVIJETU"Kovilm" "Kovilm" predstavlja preoblikovanu kravatu i leptir-mašnu. Izrada je ru?na. Radi se u svim bojama i ukljucuje ispisivanje monograma vlasnika i interpunkcije na lijevoj strani po želji klijenata. Ono pretpostavlja dugoro?nu, ta?nije vje?nu upam?enost svojih prethodnika. Rješenje registracije dizajna kovilm je izdato 16.07.2020. u Ministarstvu ekonomije i kovilm je zvani?no priznat modni detalj u svijetu. Kovilm je zašti?en na osnovu Zakona o pravnoj zaštiti industrijskog dizajna i nije dozvoljena njegova izrada bez izdavanja licence.
Leave a comment
You must register or login
You must be logged in to follow. Please register or login to continue.