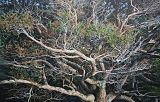 Kim Wilson
Morningside, Australia
More artworks by this artist
Erebus Cove in the Auckland Isles Group of the New Zealand subantarctic islands. These islands are very remote, inhospitable and historically notoriously badly charted. Many ships wound up on the surrounding rocks and pigs were introduced to the island to provide food for shipwrecked sailors.
Leave a comment
You must register or login
You must be logged in to like or follow. Please register or login to continue.