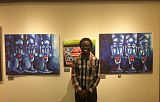 keita kankam
Edmonton, Canada
More artworks by this artist
women in their heart despite the years wearing to be beautiful, they look into each other one for encouragement and strive to attain that. This painting depicts five women in blue colour with redlines. The blue represent the love they have for their life and the red signifies how sexy and beautiful they are. This helps them to go about their normal activities with great passion.
Leave a comment
You must register or login
You must be logged in to follow. Please register or login to continue.