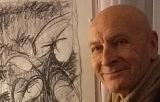 Jean Bessat
Montpellier, France
More artworks by this artist
STYLE
Contemporary Art, Figurative
Diptyque représentant une scène de tango argentin. Deux tableaux séparés destinés à être disposés face à face qui nous font remonter vers les origines de cette danse. Les danseurs sont replacés dans un cadre fantasmé d'entrepôt quelque part du côté de Buenos Aires aux temps où le tango était dansé par des "mauvais garçons" et des "filles légères"... Réalisation : acrylique et huile sur toile. Two paintings forming a diptych, showing two dancers of Argentine tango. We are in a kind of dream somewhere around Buenos Aires in something like a warehouse, when tango was supposed to be practised by "bad boys and girls". Technic : acrylic and oil painting on canvas.
Leave a comment
You must register or login
You must be logged in to like or follow. Please register or login to continue.