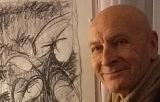 Jean Bessat
Montpellier, France
More artworks by this artist
J'ai mal ! Cette horrible petite fille (8 ou 9 ans, pas plus) ETAIT vraiment comme ça ! L'air méchant, le visage marqué, les mâchoires saillantes. Mais pourquoi donc ? Crayon noir sur papier, format 6 x 7 cm It hurts ! This terrific little girl (8 or 9 old, not more) WAS like this, indeed ! Looking nasty, with a marked face and prominent jaws. But why ? Black pencil on paper, Size 2,4 x 2,8"
Leave a comment
You must register or login
You must be logged in to like or follow. Please register or login to continue.