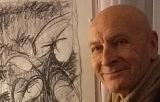 Jean Bessat
Montpellier, France
More artworks by this artist
"APATITE BLEUE OU VERTE" appartient à la série "MINERAL" créée à l'origine pour la mise en valeur de bijoux. Chaque toile évoque la couleur de l'une des pierres fines utilisées: améthyste, amazonite, cornaline, grenat, jaspe polychrome, lapis-lazuli, malachite, onyx noir, pierre de lune et turquoise, quartz rose et apatite bleue ou verte. Acrylique sur toile, format 30 x 30 cm (12" x 12 "). "BLUE OR GREEN APATITE" belongs to the series "MINERAL" created to promote jewels. Every painting evokes the color of one of the semi-precious stones used : amethyst, amazonite, carnelian, garnet, polychromic jasper, lapis-lazuli, malachite, black onyx, moonstone, turquoise, pink quartz and blue/green apatite.. Acrylic on canvas 12" x 12" (30 x 30 cm).
Leave a comment
You must register or login
You must be logged in to like or follow. Please register or login to continue.