Peony Painting - Pink Lilac Flower Bud Original Large Acrylic Painting Floral Wall Art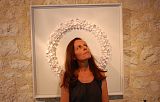 Cathy Savels
Bergerac, France
More artworks by this artist
This original one-of-a-kind Peony painting is the perfect way to bring the outdoors in. This large acrylic painting would make a stunning focal point in any room. With it's abundance of petals in a huge array of tonal variations of pink and lilac, this was a labor of love for me. TITLE: Peony SIZE: 80 x 80 cms (31.5" x 31.5") MATERIALS: Acrylic on canvas The sides of the canvas have been painted so there is no need for a frame. (see image 5) You can read my bio here http://www.cathysavels.com You may also like my Pink Tulips painting here: https://www.etsy.com/listing/527246359/ __________________________________________________ Testimonials from happy customers: *** Oh, I love it! The painting was more beautiful than any computer image could translate. Thank-you for sharing your gifts and talents with the world! *** Wonderful, even better than I imagined! Many thanks too for the extra card, and the pretty stamps (my grandson will be pleased!). A real pleasure to share in a little piece of your magnificent art! *** STUNNING!!!...Takes my breath away!!!...Thank you!!! ___________________________________________________ Achievements: * One of my logs paintings was selected by Christies, London sold at their Art for Life Event. * I won first prize for innovation in a competition here in France. * I have done numerous successful exhibitions in UK, Belgium and France. * Published artwork in Reves de Femmes Lunar Calendar Book in Switzerland * Represented by The Exposed House, Abu Dhabi * Several collectors worldwide regularly commission me.
Leave a comment
You must register or login
You must be logged in to like or follow. Please register or login to continue.