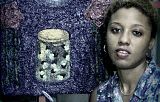 Ayesha S. Martin
South Oropouche, Trinidad and Tobago
More artworks by this artist
CATEGORY
Textile and Fiber Art
This is one of my smaller works in a diamond-shape format and it glows in the dark after being exposed to light for approximately 1 minute. It is made purely of textile, surfaced with a minimal quantity of gold metallic paint. The symbol is made of a different type of fabric to its background colour and painted in luminescent paint.
Leave a comment
You must register or login
You must be logged in to like or follow. Please register or login to continue.