9 Artworks Ideas for Interior Designers
Almost everyone takes good care of their homes and designs them accordingly to create rooms that make us feel better and calm. Interiors can be customized in several ways depending on the desired outcome. One way to make our living space reflect artistry and style is by buying artworks and incorporating them thoughtfully on the walls. The importance of decorating walls with artwork is undervalued. It's the last thing on the list to be dealt with while decorating a room or any space. Art has the potential to change a space and enrich it with passion when chosen carefully.
Artwork can be a perfect decorative item for your walls in almost any design. Customizing room space or adding artwork on walls requires a tiny amount of research and effort. Also, there are plenty of interior designs catalog available on the internet that provides a whole bunch of creative ideas. Some of them are mentioned below.
Elect a Color Scheme
Artwork can highlight your history, introduce vital aspects, or be the ideal component for your desired layout. In interior designing, one of the most challenging decisions is to select a color scheme for your space. Therefore, the most brilliant move would be initially examining the colors in a piece of Art. Once you have invested in a painting or artwork you adore, you may utilize it to assist you in determining a color scheme for your space.
Try it on to view how it fits
Suppose you are concerned about placing artwork on the wall while customizing your room. In that case, the best idea is to cut a piece of chart paper of various dimensions and frames for a gallery wall and test out a few different spots to make sure you are selecting the correct position. Even if you change your mind, there is no need to worry about it as a nail hole is relatively small and quickly spackled.
Art as Centre of Attention
The significant component of current trends of interior design is the artwork. Invest in the Art that complements the rest of your space and conveys a story to you. Every room requires an object that draws everyone's attention in a couple of seconds. Thus, using Art as a center of attention is generally a great idea. Whatever artwork you purchase, be sure to place and accentuate it properly so that everybody who enters your home gets stunned by your sense of style and taste.
Provides Final Touch to the Area
After you finish furnishing your space and your walls painted with the desired color scheme, hang the wall art in the decided position. The artwork gives a final touch to your room and brings it together so that it looks complete. It is that bit additional element that might transform your room from basic and uninspiring to precisely designed. Therefore, don't be scared to inject some color and imagination into your space.
Unique Art Piece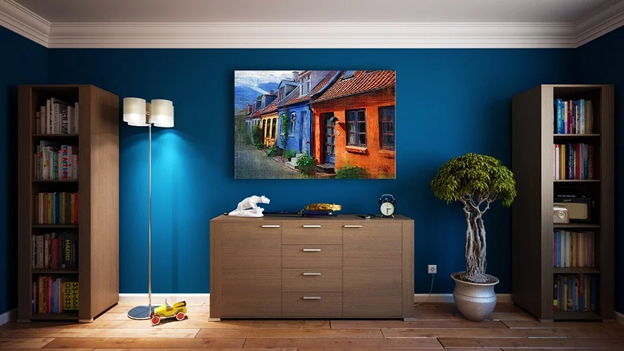 While purchasing art replicas might be inexpensive and convenient, there is nothing quite like being the only legal owner of an original artwork that can be passed down for generations. Nothing beats the sense of owning a painting that an actual artist creates over many hours. That being stated, you don't want to waste your money, time, or effort on an art piece that was offered to you as an original but isn't.
Adds a Sense of Depth
Artworks are created in different dimensions and sizes. Thus it would help to acquire wall arts in various mediums to provide the room a more diverse sense of depth. In addition to paintings, you could also buy shadow cubes or sculptures to add more texture to the room.
Anything may be considered Art
There is no official council sitting around a round table deciding what is Art and what is not when it comes to your own house. Hang a postcard, your first movie tickets with your loved one, a conceptual poster, and you have got yourself some wall art.
Experiment with combinations
There is no such thing as terrible ideas, only awful implementation. Believe twice before adding something in the mix that you don't think will make sense. Even if it is not perfect Art, it may take on a new meaning when combined with various art pieces or furniture. Therefore, try different position pairings and locations.
Gentle Handling
Except for direct sun exposure, humidity is another aspect that might ruin the quality of the artwork. Therefore, you should pick a location with minimal humidity and no direct contact with sunlight or water. Also, moisture can cause damage; thus, only dusting your painting from time to time would be enough to clean it.
---