20 Famous Landscape Paintings
Of the various artistic forms of expressions, landscape paintings are some of the most captivating and enthralling pieces to view. Especially when done by a very skilled and talented artist, they leave you in awe of the amazing beauty that nature has to offer. In fact, viewing a landscape painting, provided it's expertly painted, can be a transcendental experience because you get this sense of beauty that makes you feel at peace and in unity with the rest of the universe.
Below, we bring you a list of 20 landscape paintings from various periods in history that have captivated the eyes and souls of art enthusiasts over the years, and combined together will cost, perhaps billions of dollars to purchase at an auction.
1. The Hunters in The Snow (1565) by Pieter Bruegel the Elder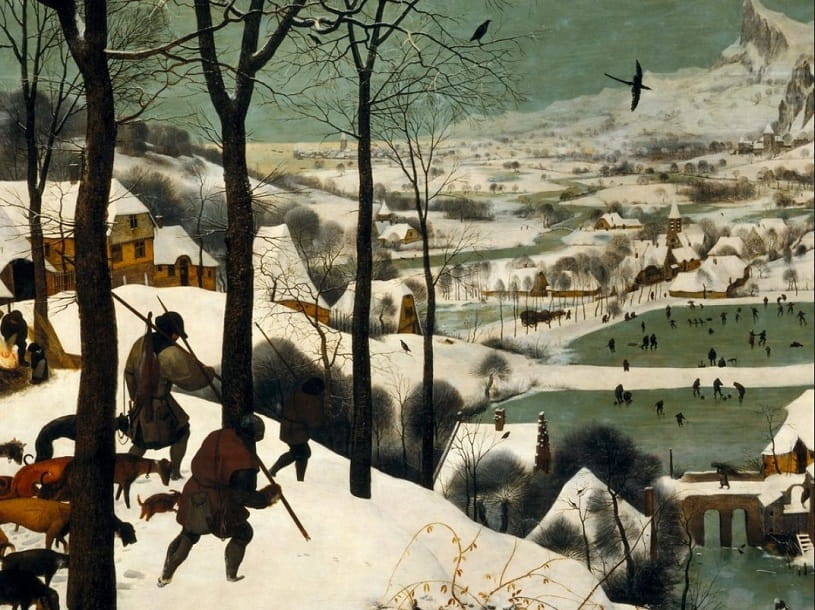 Image via https://www.irishtimes.com
Just as the name depicts, hunters in the snow is a landscape oil painting done on wood that captures a scene of three hunters returning home after a hunt while it was snowy. The painting is also referred to as The Return of the Hunters. It portends a melancholic aura as the hunting expenditure was obviously was obviously futile (the hunters came back only with a fox). Even the dogs seem unhappy as they are depicted in slouching poses. This work is quite popular as it has been widely used in various contemporary movies. It is also part of a collection of five (still existing) landscape paintings that feature various seasons of the year.
2. View of Toledo (1596-1600) by El Greco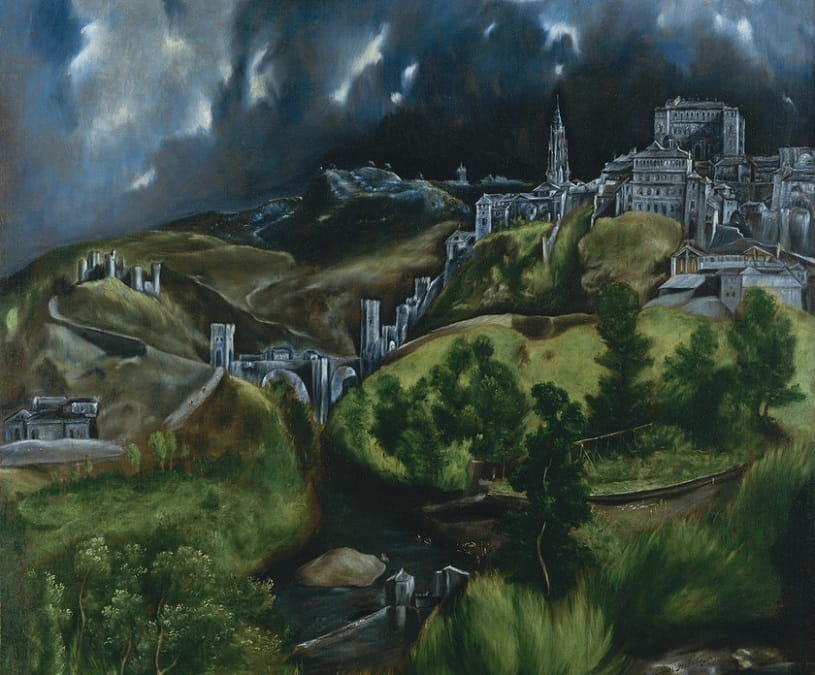 Image via www.metmuseum.org
Just in case you're wondering, El Greco means The Greek and it is a nickname for the master who presented us with this absolutely enthralling oil on canvas landscape painting. It is said to be a close-enough depiction of the city Toledo which is located in Spain. If you've ever looked up at the sky on a cloudy night, then you would appreciate the artistic skill of this master painter despite his tendency to elongate forms. He goes on to contrast the dull and gloomy skyline with the lush vegetation and luxuriously hilly terrain of Toledo. The painting is currently on display at the Metropolitan Museum of Art in New York City.
3. View across Streams and Mountains (1684) by Wang Hui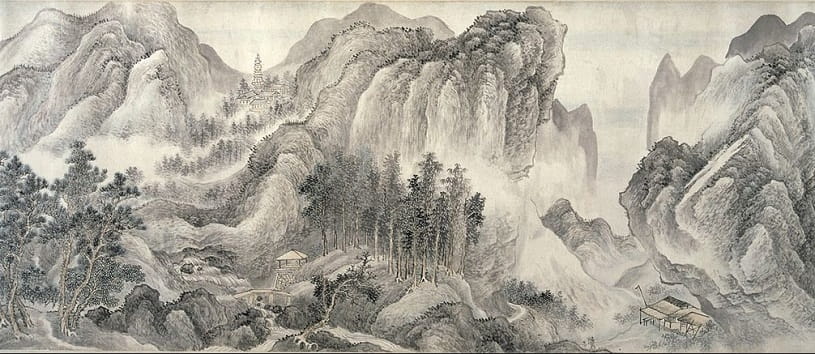 Image via https://www.tnm.jp
It's understandable if you're more familiar with paintings by European artists, but here is a masterpiece by one of China's most remarkable artists. While many artists are known to do their most important works (mature paintings) later in their careers, Wang produced this piece when he was only 30 years old. This ink on paper painting captures a lot of landscape features in clear detail. Extensive mountains can be seen as well as many trees dotting the foreground and located in between the mountains with mist rising out from among them all. Wang adds a little artificial effect here as a couple of tents can also be seen in the foreground while there are a few houses farther back. As is usual with the artist's style, his strokes, while accurately depicting the mountains and trees, also combine to form various other weird shapes. The painting currently hangs in the Tokyo National Museum, Tokyo.
4. Wanderer Above the Sea of Fog (1818) by Caspar David Friedrich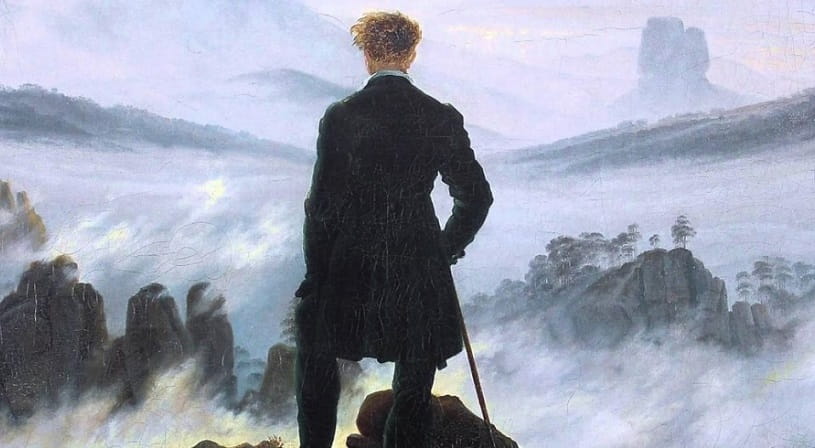 Image via http://projectartistx.com
Just like the first painting that was considered, this art work also has other names such as Mountaineer in a Misty Landscape and Wanderer above the Mist. It is an icon of the Romantic era and jibes with the introspective and philosophical atmosphere of the times. The work displays a combination of fog and mist with mountainous figures jutting out at various areas and a young man (the wanderer) standing atop one of them. This oil on canvas painting can be considered as either pointing to the insignificance of man in the grand scheme of things as observed in the vastness of the background while the wanderer stands alone observing. Despite this, an interpretation of control and being in charge can also be assumed as the stance of the wanderer can be viewed as assertive and domineering as well.
5. The Hay Wain (1821) by John Constable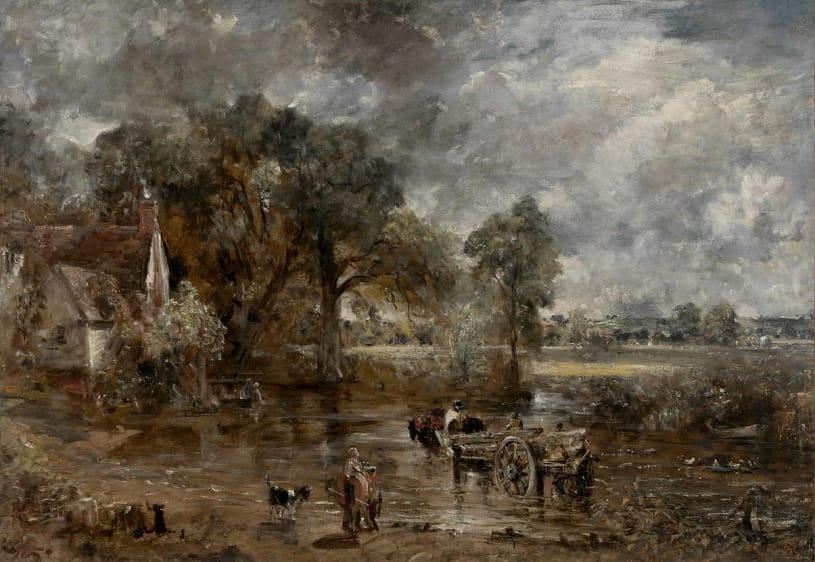 Image via http://blvrd.com
No list of remarkable landscape paintings can be complete without the inclusion of an artwork with a rustic English setting. This is exactly what John Constable presents in this most popular oil and canvas painting of his that shows three horses drawing a wooden farm wagon through a river. Interestingly, The hay wain is said to be a painting of the environment around Constable's father's farm on which he grew up as well as the home of their neighbor. The farm and house have been preserved as a tourist site and still exist till date while the painting itself hangs in Victoria and Albert Museum in London.
6. Mount Fuji in Clear Weather (1830–1832) by Katsushika Hokusai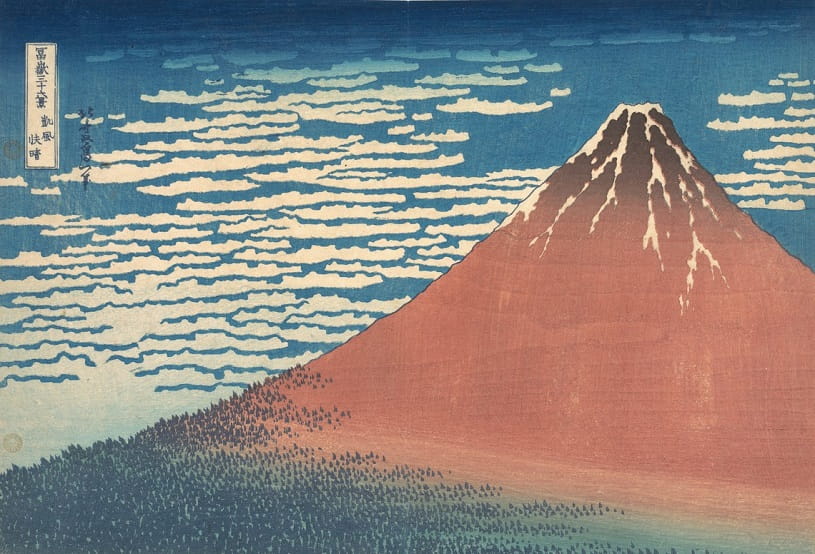 Image via https://www.metmuseum.org
Here is another piece of enthralling landscape painting done by an Asian master painter. Mountains in Clear Weather is one among a collection of 36 painting through which Hokusai displayed his love for and obsession with Mount Fuji. You might be forgiven for considering this a heat map due to the predominance of red and blue hues in the painting, but it is only a depiction of the clear weather. In the background are some clouds while some rivulets of snow trace various paths down the peak. The foreground also features some small trees, a sublime capture of as many features of the popular Mount Fuji as possible.
7. View from Mount Holyoke, Northampton, Massachusetts, after a Thunderstorm, The Oxbow (1836)
by Thomas Cole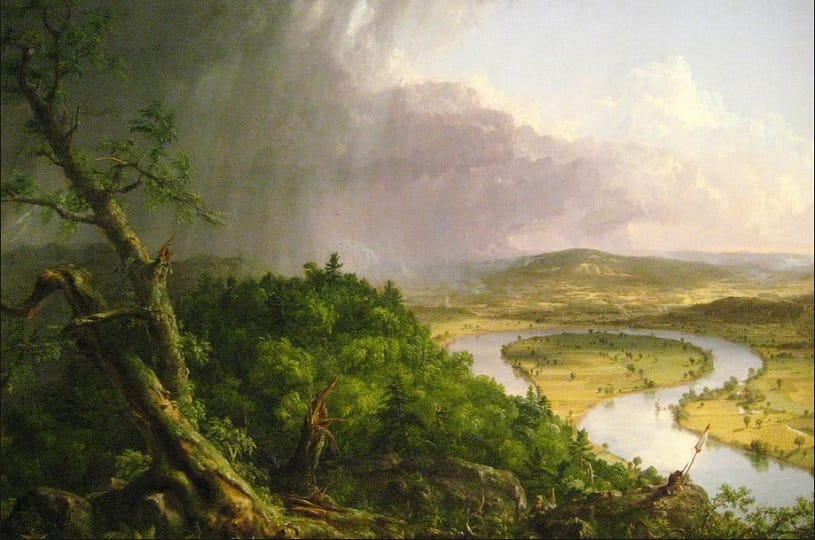 Image via https://www.flickr.com
The first landscape painting on this list to be done by an American is Thomas Cole's oil on canvas painting. Interestingly, this work, which has become quite popular, was done as an aside just so he could have something to present at an exhibition. The major project he was working on at the time was a collection of five paintings which were commenced at the behest of one of the regular buyers of his works. By a twist of fate, this seeming afterthought is now a hallmark painting for him. It depicts the Connecticut River valley with trees and vegetation in the foreground, a hilly terrain in the background, and gray overcast skies that had still not cleared from the effects of a raging thunderstorm.
8. The Ninth Wave (1850) by Ivan Aivazovsky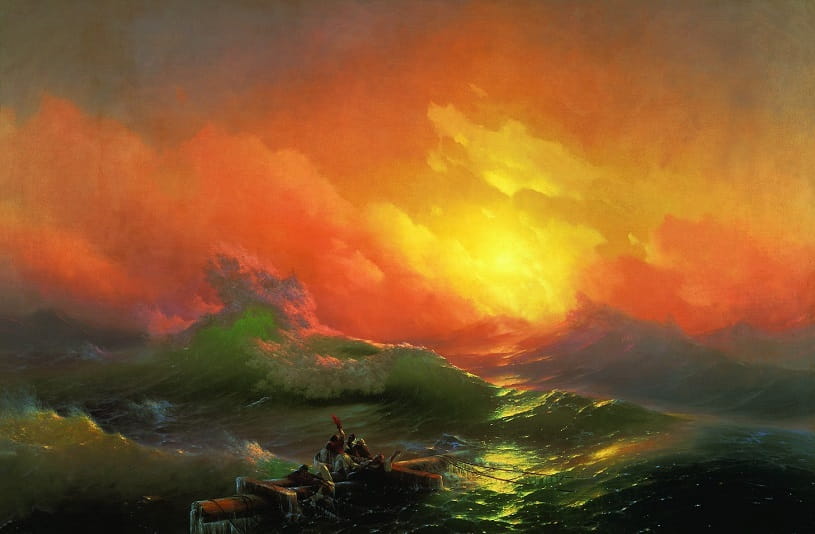 Image via https://upload.wikimedia.org
This painting is one that triggers feelings of ambivalence in the observer, it depicts both tragedy and hope all at the same time. At first glance, one sees stormy seas and the passengers of a ship on it struggling to stay afloat and alive. At the same time, a rising sun can be seen in the back ground just peaking over the distant mountains which can be taken as a sign of hope and positivity. Art is meant to evoke emotions, even if they're conflicting, and this Oil on canvas painting currently hanging in the State Russian Museum at St. Petersburg does just that.
9. Twilight in the Wilderness (1860) by Frederic Edwin Church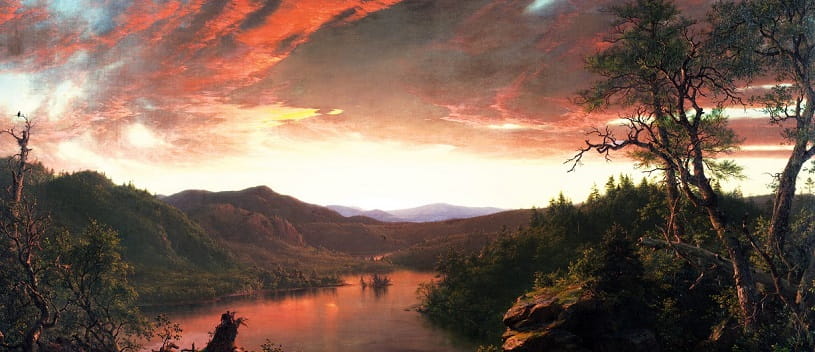 Image via https://www.laphamsquarterly.org
A quintessential landscape and nature painting, this work grabs nature at a particularly unique time without any adulterations. The sky is painted in a cascade of colors that shows the effect of the fading sun with faint replications in the river and a slightly dark overtone capturing the period just before nightfall. In between the hilly background and the sky, the disappearance of the sun can be identified with its dying rays spilling out onto the canvas. The absence of any human or animal figure makes it even more scenic especially for nature enthusiasts. For those interested in seeing this painting, it is on display at the Cleveland Museum of Art, Cleveland.
10. Looking Down Yosemite Valley, California (1865) by Albert Bierstadt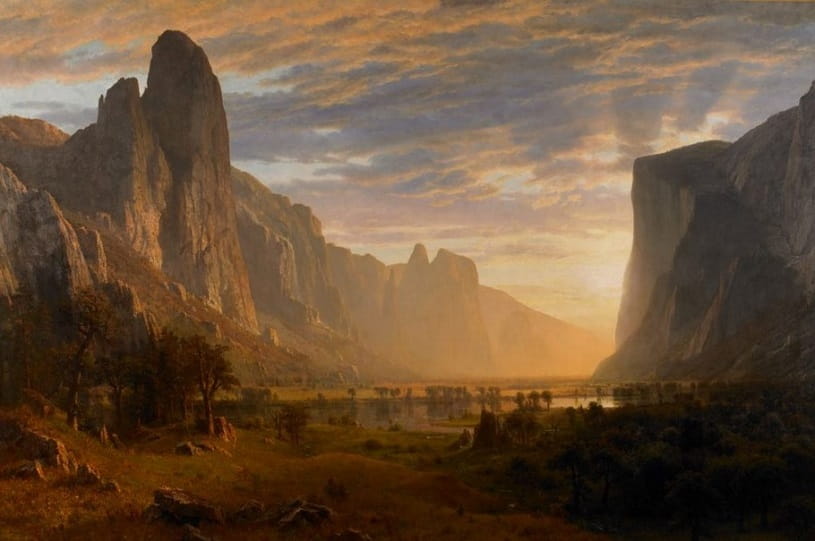 Image via https://artsbma.org
Here is another beautiful and iconic American landscape painting that sublimely captures nature in all its beauty. Just like the previous painting that was considered, this work also depicts the sky with an interplay of colors, although not as intricate or dark in shades as Church's Twilight in Wilderness. This seems to be a depiction of a period either shortly after sunrise or towards the middle of the day. It shows rays of the sun lighting up the background from in between El Capitan rock and Sentinel Rock with Middle Cathedral rock just showing up in the background. Merced River can be seen with beautiful trees around its banks and some vegetation in the surrounding environment.
11. Impression, Sunrise (1872) by Claude Monet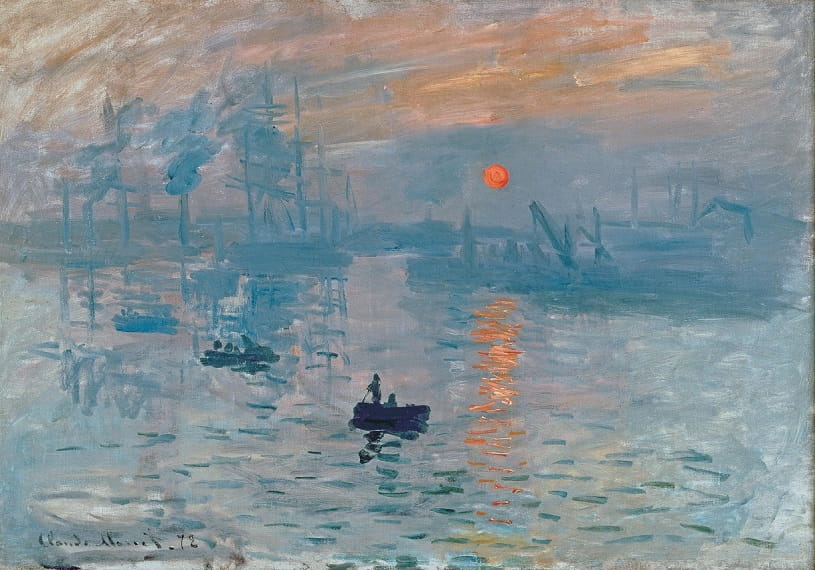 Image via https://arthistoryproject.com
Even people who are not exactly art enthusiasts are familiar with the name Monet as an icon in painting. And this work is one of his most remarkable for various reasons; the most important of which is that it is said to have birthed the impressionist movement. This is a form of art expression and painting that projects the impressions created by the scene rather than trying to replicate the scene itself (unlike the two previous paintings considered). Also, Impression, Sunrise depicts the port of Le Havre, which is the master painter's home town and considered a symbol of French return to prosperity after losing out in the Franco-German war.
12. The Small Meadows in Spring (1880) by Alfred Sisley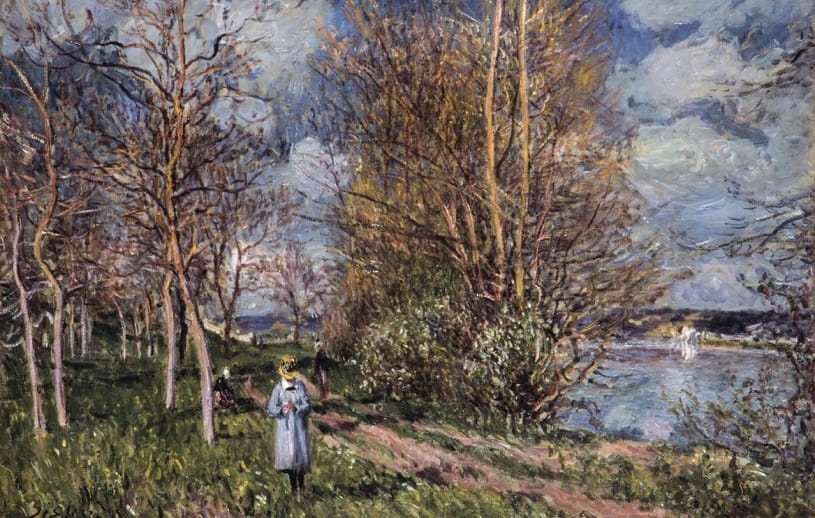 Image via https://www.tate.org.uk
Yet another impressionist landscape painting done by an English artist born in France. This work is a depiction of a woody trail beside a river that runs between the villages of Veneux and By with its surrounding trees and vegetation as well. A young lady can be seen walking slightly off the path, and she has been said to be the painter's daughter. Another interesting thing about this painting is that the village that can be seen far back in the background is known as Champagne. Sadly, the artist was not really recognized in his lifetime and was said to have lived in penury, an unfortunate circumstance for such a talented painter.
13. Mont Sainte-Victoire (1904-1906) by Paul Cézanne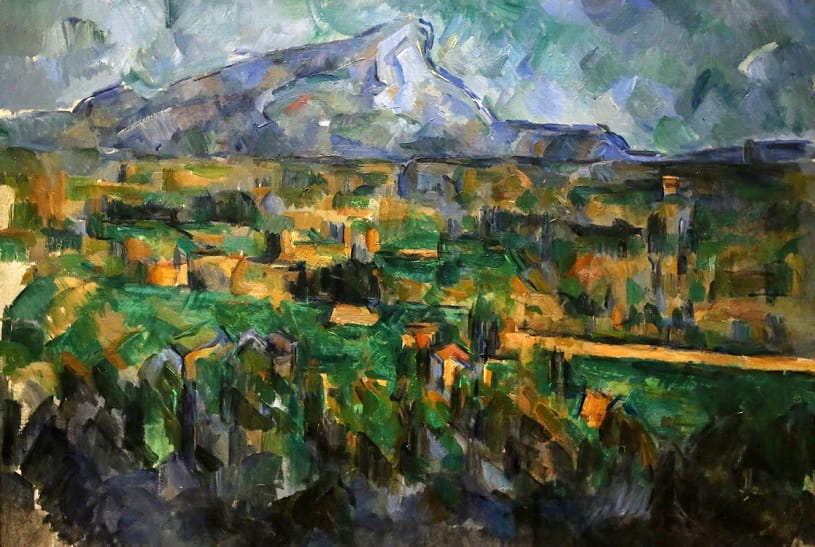 Image via http://mitchbogen.blogspot.com
What are the paintings that were done immediately after the impressionist period called? The answer is pretty intuitive, they are called Post-impressionist paintings, and that's the category to which Mont Sainte-Victoire belongs. This eponymous depiction of the Montagne Sainte-Victoire, a mountain that is cited in the South of France is done using a combination of geometry and colors to highlight various features like depth and distance. It is a part of a collection of landscape oil paintings by the creative painter who is thought to have inspired some big names in the world of art like Pablo Picasso.
14. Morning in a Pine Forest (1889) by van Shishkin and Konstantin Savitsky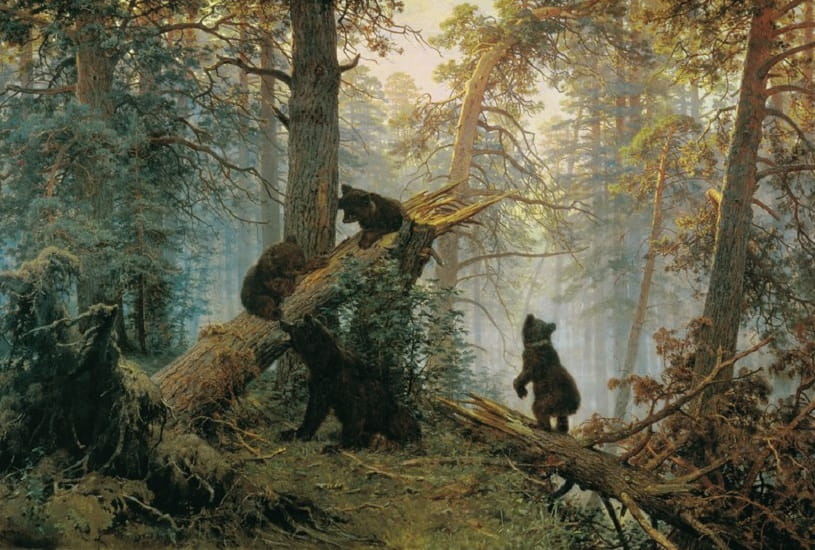 Image via https://www.rbth.com
For the first collaborative painting on this list, we have Morning in a Pine Forest, done by two notable Russian artists. Although the work has in recent times being ascribed only to Ivan Shishkin, it is believed that Konstantin Savitsky actually did the painting of the bears that are shown on the tree trunks. Unlike the impressionist works that have been considered hitherto, this is a realist artwork, showing the trees, their leaves, and the surrounding foliage in detail. Although the sun is not visible, the reflection of its light can be clearly seen at the top of the painting while a hazy fog is clearly visible below the canopy of trees. This work is a beautiful depiction of nature at one of its most remarkable times of the day- the morning.
15. Wheatfield with Crows (1890) Vincent Van Gogh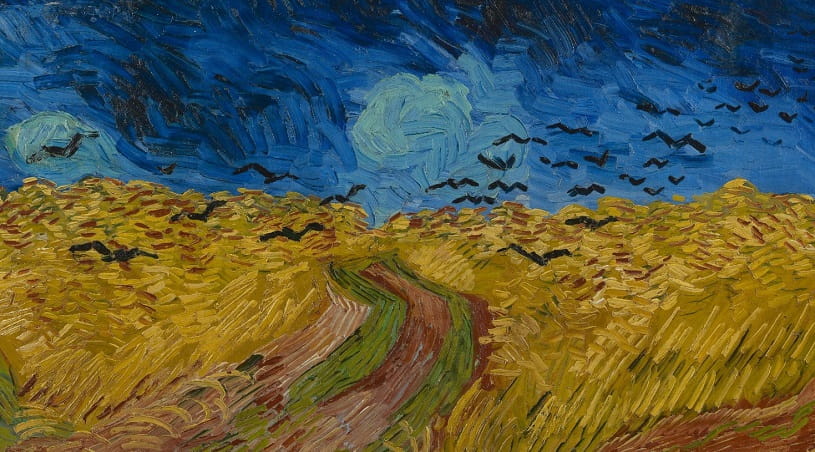 Image via https://www.vangoghmuseum.nl
And here is a work by one of the most iconic names in the history of art. Wheatfield with Crows is beautiful painting with a strong appeal and what is considered by many critics as a powerful message. Done towards the end of the artist's life (which occurred by suicide), the circumstances surrounding it make it seem ominous and holding a hidden message since he knew he would be taking his own life soon. The post-impressionist work is part of a series of paintings by the art genius involving wheat fields. Regardless of which interpretation is given to it (there are so many) the fact remains that Wheat field with Crows is an important work of art that will continue to remain relevant through the ages.
16. Hyde Park, London (1890) by Camille Pissarro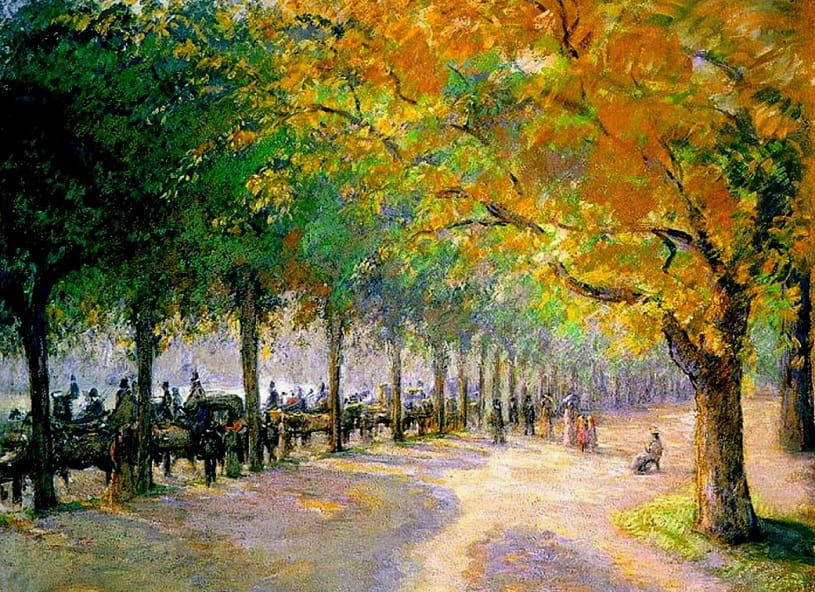 Image via https://www.wikiart.org
While Paul Cézanne was known to have inspired people like Picasso, it is well known that Cézanne himself was greatly influenced by Camille Pissarro, the impressionist painter whom he looked up to, beyond just being an impressionist painter, Pissarro is known as being one of the heroes of impressionism alongside others like Claude Monet. And this painting in all of its enthralling beauty shows the reason why as it depicts Hyde park with its neat array of trees and uses a play of colors to achieve perspective, showing the trees extending into the distance as well as the people standing and sitting in the park.
17. Le Mur Rose (1898) by Henri Matisse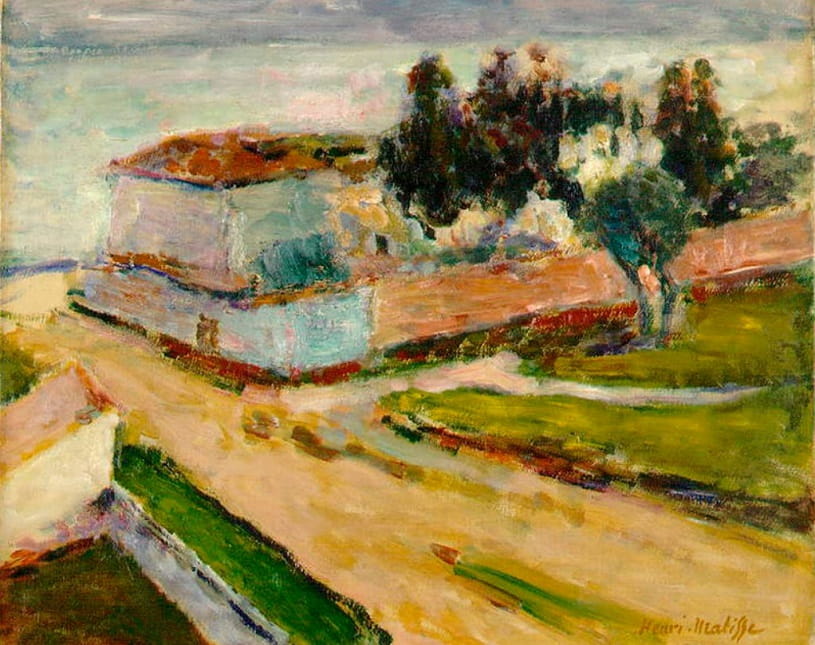 Image via https://theartstack.com
This work is a depiction of the suaveness and dexterity of Henry Matisse, an artist known for his bold style and wonderful talent. This impressionist painting of the path leading up to a house, the house itself as well as trees and grass around it has an interesting history. It was purchased from the artist by a Jew, Harry Fuld, and due to his death, its acquisition by his son and World War II found its way into the possession of a Nazi soldier. After its tumultuous journey through various places, it now resides at the Jewish Museum in Frankfurt, Germany.
18. Guests from Overseas (1901) by Nicholas Roerich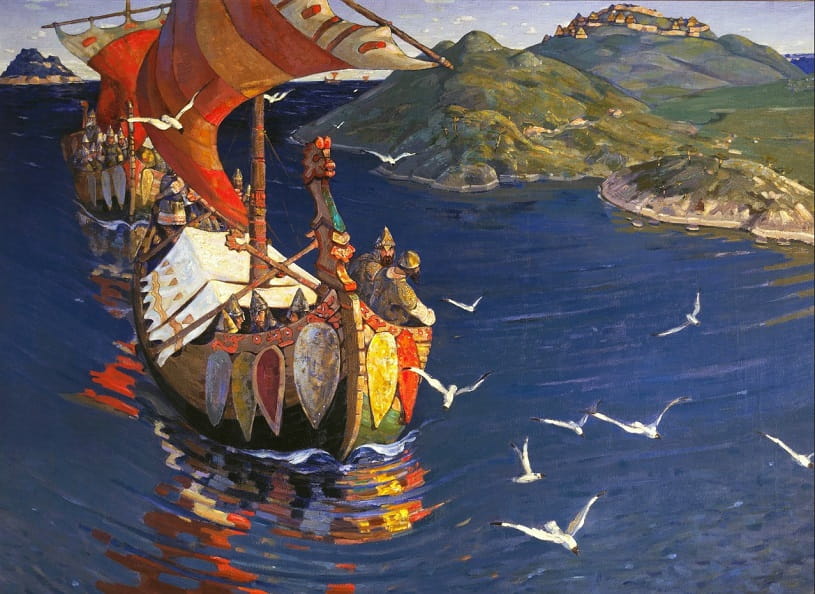 Image via https://commons.wikimedia.org
Another beautiful impressionist work from Russia, Guests from Overseas, just like the name implies, is a depiction of travellers arriving by sea on boats. The combination of various colors shows the leading both in clear detail alongside its sail and bow as well as its reflection in the water which is represented with blue colors. Behind is also a depiction of the second ship and birds can be seen at various positions all over the painting. The background features two large rocks rising out of the water and another smaller one farther back. The work is considered to be a representation of the Vikings' arrival in Russia at some time in the distant past.
19. The Flamingoes (1907) by Henri Rousseau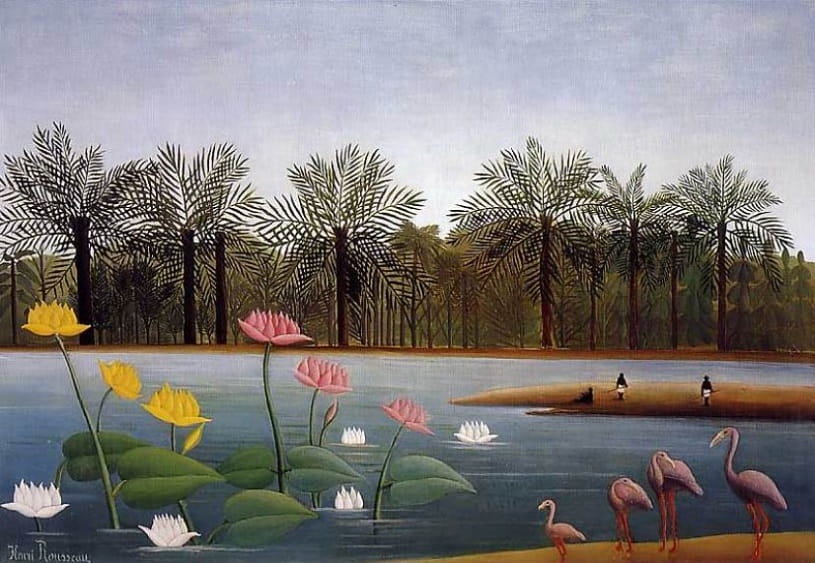 Image via https://theartstack.com
Bold, vivid, and carefully detailed, these are the words that can describe The Flamingoes a post-impressionist landscape painting by a renowned artist of his time. Although named the flamingoes, what stands out in this work is actually the water body (perhaps a river) with the beautiful aquatic plants growing out of it and the trees and other plants on the bank of the river. Two men can be seen standing on a patch of land in the middle of the river while another one seems to be in a sitting position. The flamingoes themselves are seen in the foreground, four simply depicted birds standing serenely by the water body. This work goes to prove right Leonardo Da Vinci's statement, "Simplicity is the best form of sophistication"
20. Small Rhythmic Landscape (1920) by Paul Klee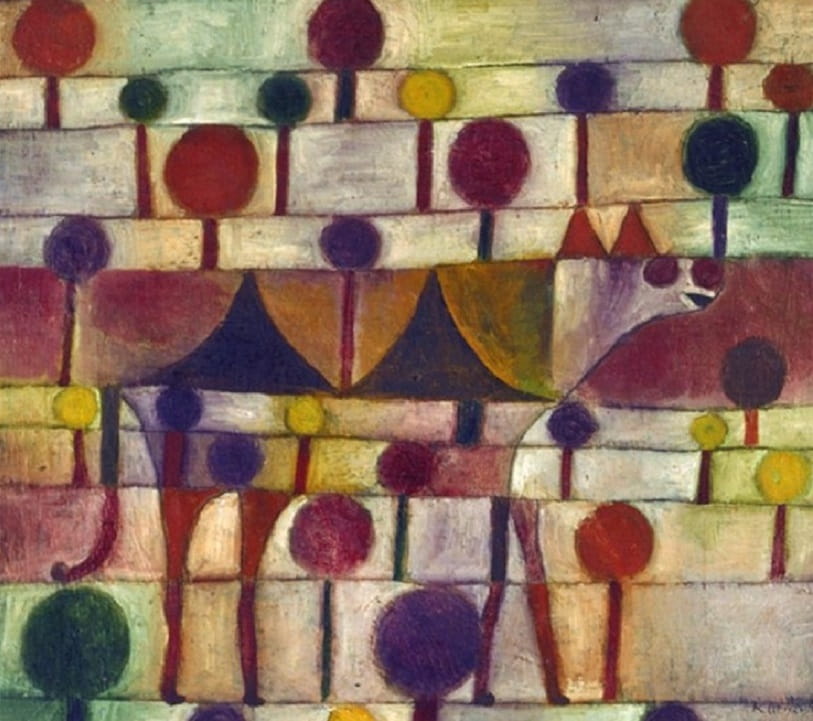 Image via http://paintingandframe.com
This work by Paul Klee, an Austrian painter who defies classification, having being considered as belonging to various art movements such as cubist, expressionist, and surrealist. The iconoclast worked with a varied combination of colors and forms to create fiercely different works of art that are uniquely his and of a distinct style. The work does not seem to be reminiscent of a specific location, only showing a combination of colors and forms.
---