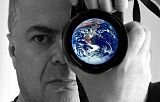 jean-francois Réveillard
Engelberg, Switzerland
More artworks by this artist
CATEGORY
Textile and Fiber Art
Certificate of authenticity
Yes
Pieces for cross media installation, 3D, sculpture, digital art , video and music. " When man has disappeared from the planet there will be nothing but relics piously maintained by machines "
Leave a comment
You must register or login
You must be logged in to like or follow. Please register or login to continue.