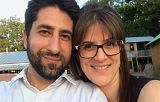 Isabelle Castilloux
Montréal-Est, Canada
More artworks by this artist
STYLE
Abstract, Conceptual, Contemporary Art, Cubism, Expressionism, Fauvism, Figurative, Futurism, Hyperrealism, Impressionism, Minimalism, Mixed Media, Modern, Naive, Photorealism, Pop Art, Realism, Street Art, Surrealism, Other styles
Une femme magnifique qui a l'air d'une reine avec ce regard somptueux. Il est difficile d'être une femme dans notre société. Dans cette peinture j'aimerais que les gens ressente une force et une liberté d'être. Une femme a le droit de briller au même niveau qu'un homme. Les couleurs vibrantes démontrent l'intensité de son caractère et se sa puissance.
Leave a comment
You must register or login
You must be logged in to like or follow. Please register or login to continue.