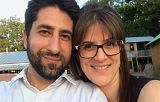 Isabelle Castilloux
Montréal-Est, Canada
More artworks by this artist
STYLE
Pop Art, Expressionism, Figurative, Hyperrealism, Realism
Elle représente une belle femme noire. Elle est aussi lumineuse qu'une étoiles. Elle symbolise l'harmonie que je partage ces femmes depuis mon enfance à aujourd'hui. L'harmonie et l'amour des autres devraient être un mode de vie pour tous quel que soit sa provenance.
Leave a comment
You must register or login
You must be logged in to like or follow. Please register or login to continue.