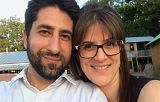 Isabelle Castilloux
Montréal-Est, Canada
More artworks by this artist
STYLE
Conceptual, Contemporary Art, Cubism, Expressionism, Fauvism, Figurative, Futurism, Hyperrealism, Impressionism, Minimalism, Mixed Media, Modern, Naive, Photorealism, Pop Art, Realism, Street Art, Surrealism, Other styles
Une jeune femme qui s'apprête à prendre sa douche sous une cascade d'eau enroulée dans un drapée turquoise. Cette oeuvre est remplie de douceur, d'élégance et de sensualité. Elle est idéale pour embellir votre salle de bain ou votre chambre à coucher.
Leave a comment
You must register or login
You must be logged in to like or follow. Please register or login to continue.