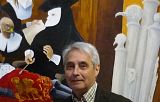 Marc Brees
Bruxelles, Belgique
More artworks by this artist
Le réveil de l'Emire Lentement la bête se réveille Lentement elle trace les limites de son Emire vers l'infini Au fil de vingt siècles c'est dans cette lenteur pesante qu'un autre empire déroulera sa muraille pour un ennemi qui, un jour, viendra ou pas!
Leave a comment
You must register or login
You must be logged in to like or follow. Please register or login to continue.