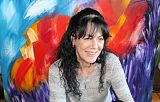 Monique J Dufour
Burlington, Canada
More artworks by this artist
This is the 2nd painting in my series of "inner child". There is the individual observation of the obvious in the painting …and then there are the hidden treasures…and that is where your adventure begins ! Is this your underwater adventure or perhaps your space adventure ? The possibilities are endless… Gallery wrapped, sides painted, ready to hang. will be shipped securely in a box. Price does not include shipping. All shipping costs are the responsibility of the collector.
Leave a comment
You must register or login
You must be logged in to like or follow. Please register or login to continue.