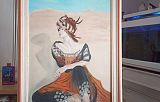 Siro Delphine
Nîmes, France
More artworks by this artist
STYLE
Contemporary Art, Pop Art
Certificate of authenticity
Yes
Une saharienne en premier plan assise dans le desert qui regarde l horizon,avec ses bijoux et ses vêtements d ' apara, le désert en arrière plan sert à mettre en relief cette saharienne.
Leave a comment
You must register or login
You must be logged in to follow. Please register or login to continue.