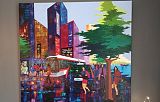 GAETAN CHAFFARD
Nice, France
More artworks by this artist
Certificate of authenticity
Yes
Originaire de la région lyonnaise, cet artiste n a pourtant pas fait l'école des beaux-arts refusé pendant sa jeunesse. Il prend alors une tout autre direction en devenant commercial international qui lui ouvre les portes sur différentes cultures et leurs arts dont il s empreigne. Très créatif, J-C Chaffard développe tout au long de sa vie une sensibilité artistique dans de nombreux domaines, la photographie où il réalise des clichés de son fils Gaetan lors de leur nombreux séjours en Camargue région qu' il affectionne particulièrement ou il peut pratiquer une autre de ses passions l équitations. Nous retrouvons alors à cette période de sa vie beaucoup de représentation de chevaux, de flamants roses dans sa peinture. Débordant d'idées il crée également une ligne de vêtements d'enfants qui est expatrié dans plusieurs pays ( Chine, Turquie …) Epicurien et fin gourmet il ouvre son propre restaurant sur Vienne qui remporte un franc succès. J-C Chaffard reste fidèle à sa passion première, la peinture. Cet autodidacte passe par plusieurs phases ( le pastel, l aquarel et pour finir peinture à l'huile. Le graphisme lui aussi évolue, il réalise moins de natures mortes, certaines toiles sont presque abstraite. Ses œuvres deviennent moins fidèle à la réalité mais plus colorés, les formes sont plus géométriques, l'imaginaire prend plus de place dans sa peinture, les dimensions des toiles s'agrandissent et l'artiste représente exclusivement des femmes. J-C Chaffard participe à de nombreuses expositions en région Rhône-Alpes, il obtient plusieurs prix dont le Prix de la région Rhône-Alpes en 2010 et le 1 er Prix de Montélimar en 2012.
Leave a comment
You must register or login
You must be logged in to like or follow. Please register or login to continue.