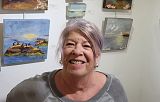 Anne René de Cotret
Nicolet, Canada
More artworks by this artist
Certificate of authenticity
Yes
Scène représentant la 1ère marina de Nicolet dans les années 1950. Ce tableau fera parti de la collection du 350e de Nicolet. Merci au Centre des Arts Populaires qui en est l'acquéreur.
Leave a comment
You must register or login
You must be logged in to follow. Please register or login to continue.