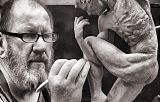 Willem Botha
Pretoria, South Africa
More artworks by this artist
Certificate of authenticity
Yes
Sculpture: Bronze on Wood. There is no better experience to see a Leopard in the wild just before he go in for the kill. This is a frame grab of this predator waiting in Anticipation for the right moment. This is No 1/15 limited edition in Bronze.
Leave a comment
You must register or login
You must be logged in to like or follow. Please register or login to continue.