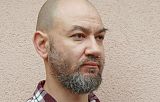 Vladimir Paskalev
Plovdiv, Bulgaria
More artworks by this artist
STYLE
Figurative, Modern, Realism, Surrealism
The daughters of the Sun and the Moon are speaking. ... The three mystical Fortunes are painted as female figures. Blue, white and gold are the colors of their robes. The closest figure of Fortune looks straight at you. She makes a gesture with her hands involving secret arts of astrology. She and her robe are golden with red and greenish tints. The figure in the middle is white and looking sideways. The farthest away greenish figure is in blue dress. Her head is lying on her arms, and she is sitting on a line representing Horizon. This line cuts background in two parts - deep red and deep blue. A Lion, a human and an Ouroboros are visible in the background.
Leave a comment
You must register or login
You must be logged in to like or follow. Please register or login to continue.