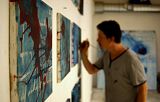 Vladimir Hristov
Amsterdam, Netherlands
More artworks by this artist
STYLE
Conceptual, Contemporary Art, Futurism, Minimalism
Certificate of authenticity
Yes
Painting: Acrylic on Canvas. Being inspired by the "simple-steel-mesh-flooring" in front of my studio, I began my new series "Urban Glitches- Views". This diptych is composed by "Urban Glitches- View 01" and "Urban Glitches- View 02" The banality of the steel mash made me thinking whether if I play with the scale and perspective it can present an another impression or completely different image. Here I try to provoke viewer's perception and thinking on what's exactly happening. Is it a steel mash or enormously huge building with it's balconies and windows disappearing into distant perspective. The mix of clarity in lines and perspectives with painterly builded planes, with only few colours, it makes this diptych dynamic and interesting to look at.
Leave a comment
You must register or login
You must be logged in to like or follow. Please register or login to continue.