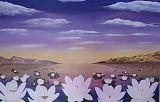 Viviane RINCK
Moissac, France
More artworks by this artist
De l'autre côté De l'autre côté de la barrière Qui y a t-il qui m'attire autant Quel est ce monde qui me tend les bras Qui est-ce qui m'appelle la nuit ? De l'autre côté de la rivière Y serais-je aussi seule que sur cette terre! Ou sera-t'elle souffrance comme ici. De l'autre côté de ma route J'irai à la rencontre de la lumière, Au bout du chemin, la haut Pour enfin sortir de l'obscurité. De ce côté de la route Pourquoi je suis Pour qui, pour quoi faire ? Si ce n'est pour mourir à petit feu " seule" !
Leave a comment
You must register or login
You must be logged in to like or follow. Please register or login to continue.