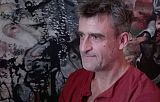 Vincze Géza
Budapest, Hungary
More artworks by this artist
Developing this picture from accidental patterns of pastel dust on a piece of Damask, I realized that it forms a comprehensive structure which starts with a Lion in the bottom left corner. It forms the last 13000 years of history. As now we are in the chaotic age of Aquarius, just opposite from Leo: the sun, the golden age, harmony. Solar months of ca. 2160 years' periods (the great Platonic year is ca. 26000 years long by Vedic knowledge) appear on the picture as escalating, crossfading pyramids (except for Aries). The top of the pyramids meet a line, the border of the visible world and its reflections which form the "mirrorsphere" (Spiegelsphere,; Rudolf Steiner). This line is the axis of the universe, which starts in Lion, darting through Aquarius: the middle of the picture, the largest pyramid. The periods appear in the mirrorsphere as faces blowing light on their pyramids. The period of Aries is represented by two columns which stand for human law, the symbol of which is Libra the opposite sign of Aries in the zodiac. Aries is the historical period of the Old Testament. On the top of the first column there is the face of Libra which is reflected in the face at the bottom of the column: "the forgetting man", who forgot the divine law and avareness, to keep balance he needs human law to be afraid of, otherwise he would sink into the inferno of sin. The following period-pyramid is Pisces which brought Jesus and the mystery of the gospels to mankind. Jesus connected the highest spiritual vibrations of the universe with Earth making light directly available for everyone.
Leave a comment
You must register or login
You must be logged in to follow. Please register or login to continue.