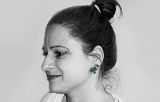 Veronika Opavska
Ostrava, Czechia
More artworks by this artist
STYLE
Abstract, Expressionism
On the border. This work with its unique pruning technique builds on the previous series of paintings called "Under the skin" with a similar course. Watercolor sketches first and then paintings and jewelery. The central theme of the work "On the Border" is the moments associated with the tramping habitat of the settlement hut in the middle of a beaver forest. From the picture can be heard the echoes of the quaking forest, bird twitter and singing, which in the moment of sunset behind the horizon changes into owl. The sounds of the forest become wild and mysterious, and I can just imagine what's behind them. I play the game with imagination and dreams, and in this work the model was not just the people who have been accompanying me since my childhood, but also the unthinkable part of our life where the totem is considered the symbolic boundary of mysticism and fantasy.
Leave a comment
You must register or login
You must be logged in to like or follow. Please register or login to continue.