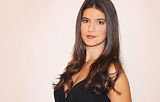 Vanessa Gilbert
Saint-Jean-sur-Richelieu, Canada
More artworks by this artist
MEDIUM
Acrylic, Mixed media
Certificate of authenticity
Yes
L'œuvre Illuminating a été créée avec les deux couleurs de l'année 2021 nominés par Pantone. Cette année, deux couleurs ont été sélectionnées plutôt qu'une, afin de démontrer la force combinée que peux représenter un duo. ''Pratique et solide comme le roc mais en même temps réchauffant et optimiste, l'union de PANTONE 17-5104 Ultimate Grey + PANTONE 13-0647 Illuminating en est une de force et de positivité.'' - Pantone Le gris choisit représente '' l'élément solide et fiable qui sera éternel, afin d'avoir des bases solides'', alors que le jaune est très gai et vif ''pétillant de vivacité et d'énergie solaire''. Ces deux couleurs s'unissent pour nous supporter dans ces moments difficiles jusqu'à l'atteinte de la lumière au bout du tunnel.
Leave a comment
You must register or login
You must be logged in to like or follow. Please register or login to continue.