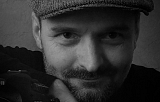 Valeriy Bekeshko
Kiev, Ukraine
More artworks by this artist
STYLE
Black and white, Fine Art
MEDIUM
Black & White, C-Type
Sea and mist. Together they are beautiful! Reflections on a walk by the sea. The sea is the best place to be alone with yourself. To clear your thoughts. The consciousness is clean. Important thought will be directed by the wave. Unnecessary one will scatter like seagulls over the water. No manipulations. • Printed (C-Type) on a Fuji Crystal Archive fine art paper. The widest colour gamut, maximum density for deep blacks and excellent colour saturation. It has the highest level of image stability, ideal for display purposes. • Shipping - unframed in a tube (strong and protective). Will be delivered in full safety. • The artwork is also available printed on canvas (Giclée) ready to hang version. The price and publication on request. - If you have any offers for me, need a different size or medium, please contact me.
Leave a comment
You must register or login
You must be logged in to like or follow. Please register or login to continue.