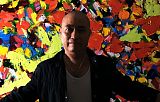 More artworks by this artist
Certificate of authenticity
Yes
This artwork was inspired from the idea of artist : The universe is endless but there always exists the living joy. - Artist used the best quality of Oil painting "van Gogh" – in box 500 ml of Holland. - Artist used big knives and large color pieces which very thick to create the work. - Artist used the best quality of Russian canvas. - The artwork will be shipped stretched in the crate (ready to hang). - Wood stretch for canvas is very thick (7cm or 8cm) plus the surface of painting is also very thick (about 7cm or 8cm), so, artwork is usually do not need frames.
Leave a comment
You must register or login
You must be logged in to like or follow. Please register or login to continue.