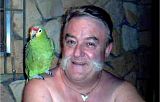 Théo Quentin
Saint-Pierre-de-Frugie, France
More artworks by this artist
STYLE
Figurative, Surrealism
Dans la bulle de son sommeil, ses fantasmes la rejoignent... Huile sur toile. Dimensions : 116 X 89cm. Ce tableau révèle le subconscient érotique qui peuple les rêves d'une jeune épousée, allongée nue sur le lit, les cuisses ouvertes, encore coiffée de la pureté de son voile de mariage. La dérive sensuelle, et sexuelle, est ici exprimée par les symboles forts tels que la domination par la femme sur un homme, à genoux à ses pieds, soumis à ses désirs (juste sous la bulle dans laquelle elle est assoupie); les déviances érotiques, avec ce couple homosexuel (drapé pudiquement dans le voile de sa traîne), l'homme objet, entravé par le lien de l'Amour (au premier plan); juste derrière cet homme, Cupidon assis sur la colonne de sa renommée, regardant impuissant ce qui se déroule devant lui. A gauche du tableau, faisant son pendant, une femme à genoux avec un œuf près d'elle symbole de la maternité, et aux pieds de Cupidon, ce même œuf en pleine éclosion, délivrant l'enfant qui doit assurer la descendance... Les souvenirs, les ancêtres, participant au jeu de la mémoire secrète, apparaissent, diaphanes, à travers un visage humain sur la stèle de la fécondation...
Leave a comment
You must register or login
You must be logged in to like or follow. Please register or login to continue.