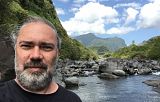 Théophile Delaine
Saint-André, Réunion
More artworks by this artist
STYLE
Abstract, Contemporary Art, Modern
The secrets of the traveler are not so secret, they are just feedback of his experiences that none can suspect. And none ask anything to him. That's the reason of this painting! Here are the secrets of the traveler, in color! Abstract expressionism painting, lyrical abstract painting, lyrical abstraction, emerging artist, contemporary art, art for sale, oil painting, abstract landscape,
Leave a comment
You must register or login
You must be logged in to like or follow. Please register or login to continue.