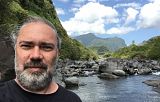 Théophile Delaine
Saint-André, Réunion
More artworks by this artist
Certificate of authenticity
Yes
this the fourth opus of the series "Contemplation". Its main color is white with a lot of reflections, green, blue, pink, yellow. A deep blue flaw evokes something mysterious in this luminous canvas.
Leave a comment
You must register or login
You must be logged in to like or follow. Please register or login to continue.