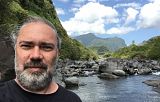 Théophile Delaine
Saint-André, Réunion
More artworks by this artist
Certificate of authenticity
Yes
Third opus in the "Contemplation" series. Made on linen canvas, this lyrical abstract painting evokes elements that are profound and mysterious to say the least. A wide band of blue shades crosses the painting diagonally, here like a waterfall, there like veils hiding chasms of such an obscure blue that it is somewhat disturbing. These blues are surrounded by rather mineral shapes that sometimes fall in snowy or beige cascades, sometimes end in colored organic filaments echoing the second opus.
Leave a comment
You must register or login
You must be logged in to like or follow. Please register or login to continue.