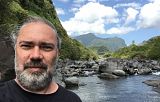 Théophile Delaine
Saint-André, Réunion
More artworks by this artist
Certificate of authenticity
Yes
June Nights In summer, when day has fled, the plain covered with flowers Pours out far away an intoxicating scent; Eyes shut, ears half open to noises, We only half sleep in a transparent slumber. The stars are purer, the shade seems pleasanter; A hazy half-day colors the eternal dome; And the sweet pale dawn awaiting her hour Seems to wander all night at the bottom of the sky. Victor Hugo Abstract expressionism painting Very high range paint International shipping Bill and certificate of authenticity Sent rolled in a tube. This method is especially safe, and provides lower shipping costs as well. Rolled works can be easily stretched and eventually framed by a local framer upon arrival. Upon delivery, we highly recommend you send any works directly to your framer for cautious, professional unrolling of the artwork.
Leave a comment
You must register or login
You must be logged in to like or follow. Please register or login to continue.