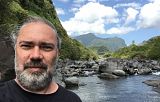 Théophile Delaine
Saint-André, Réunion
More artworks by this artist
STYLE
Abstract, Contemporary Art, Expressionism, Modern
Certificate of authenticity
Yes
This is the first opus of a new series of abstract landscape called "Contemplation. Here is an abstract expressionism painting that evokes polar landscapes, cascades of colors spilling into a gulf of disturbing depth. International shipping Certificate of authenticity Secure payment and secure packaging Abstract expressionism painting, lyrical abstract painting, lyrical abstraction, emerging artist, contemporary art, art for sale, oil painting, abstract landscape,
Leave a comment
You must register or login
You must be logged in to like or follow. Please register or login to continue.