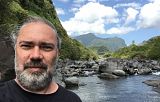 Théophile Delaine
Saint-André, Réunion
More artworks by this artist
Certificate of authenticity
Yes
"Beyond" is an abstract painting mainly in blue and white tones. It evokes an abstract and cold landscape. In the lower left corner, one can distinguish black, purple and blue forms, as much liquid, earthy, aquatic as aerial. There is a border between the perceptible world and the other dimensions: the limits of our senses. As the gaze moves towards the center and then up to the right, the suggestive forms become rare and disappear where everything seems to get lost in an ocean of light. It is the world after, the world beyond.
Leave a comment
You must register or login
You must be logged in to like or follow. Please register or login to continue.