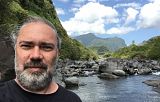 Théophile Delaine
Saint-André, Réunion
More artworks by this artist
Certificate of authenticity
Yes
Third opus of the "Correspondences" series, mostly in black and white tones with turquoise hues, yellow and orange filaments seem to detach themselves from a dark hill and let themselves be carried away by the wind. This painting is inspired by the feeling of quietude in front of the acceptance of the inexorable passing of time.
Leave a comment
You must register or login
You must be logged in to like or follow. Please register or login to continue.