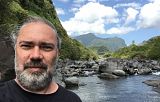 Théophile Delaine
Saint-André, Réunion
More artworks by this artist
Certificate of authenticity
Yes
Oil on linen canvas, 115 x 89 cm It is a modern abstract painting mainly red and white. A bright red mass coming from the bottom left seems to converge towards the center of the canvas where black filamentous forms appear. These filaments escape in small pieces to the upper and very bright part of the painting. The red and black overlaid...
Leave a comment
You must register or login
You must be logged in to like or follow. Please register or login to continue.