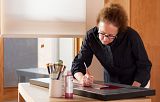 Terri Deskins
San Juan Capistrano, United States
More artworks by this artist
In the late 1950's my grandfather designed some midcentury modern abstract horses for my grandmother who absolutely loved horses. His original design was made out of wood and laid out on a framed wood panel. My father nicknamed them "Orses". We recently found his original patterns that had been stored in different family member's basements for over 65 years. The pattern he used was in perfect condition and placed in an old brown envelope with his notary stamp embossed on the front! I wanted to honor him by using his original patterns. I used acrylic paints and mediums similar to my other raku style work to get the crackle texture you see inside each of the shapes. Every crack is painted with a tiny brush. This diptych is named after one of the famous "couples" from the 1950's & 1960's television shows – "Fred and Ethel" from the I love Lucy show. As a young child, I spent many hours with my grandfather in his woodshop and am grateful that I inherited his love for creating and making things with his hands. Each of the two paintings are on 14" x 26" x ¼ inch birch wood panels. They are permanently attached to a modern black "floating wood frame" (each frame is 15.5" x 27.5"), and are wired and ready to hang. abstract horses, black and white, minimal black and white, equine abstract, picasso inspired, diptych,
Leave a comment
You must register or login
You must be logged in to like or follow. Please register or login to continue.