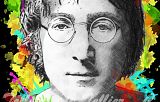 Tellier Christophe
Caen, France
More artworks by this artist
Reproduction - Portrait - Base crayons et feutre - Numérisé - Impression support Plexiglas Noir Brillant - Encre UV - 5 couleurs - Format 50x70x0,3 cm - Pièce unique La collection "Portraits d'Artistes"est disponible dès maintenant en affiches encadrées éditions limitées. Format 50x70 cm à 80 €. Editions de 25 exemplaires. Livraison sous 15 jours assurée - frais de port offerts. Chaque affiche est numérotée et signé main.
Leave a comment
You must register or login
You must be logged in to follow. Please register or login to continue.