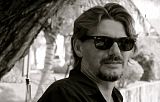 Sy Prevost (Gagné)
Mont-Royal, Canada
In Gallery
More artworks by this artist
Certificate of authenticity
Yes
Acrylic on canvas Canadian multidisciplinary artist Sy Prevost Gagné paints Leonard Cohen as the first of a series of POP ART stories and anecdotes from his ''coming of age'' period. Summer of 84', Sy (16 years old) buses tables at Moishe's Steakhouse on St-Laurent Blvd. just a few streets down from Leonard Cohen's house (across from ''Le parc du Portugal''). As he relentlessly struggles to satisfy the ''ever so demanding'' clientele, he finds refuge at Leonard Cohen's table. He was the only person in the restaurant to act with compassion and patience for the waiting staff that day. Int. dining room, night The busboy approaches the table and starts pouring water in the client's glass -Leonard Cohen- (slightly raises his head) Hi, what's your name? -Sy- My name is Sylvain sir. -Leonard Cohen- I'm Leonard, please to meet you. Leonard Cohen goes on to recite a short poem that brings Sy to a zone of calm and comfort. Sy had no idea who he had just met but felt the sincerity in every word. It was the first of a lifetime of memorable short moments with Mr. Cohen. Each one just as magical... This is the first from the POP ART series called ''POP sur La Main''/''POP on the Main''.
Leave a comment
You must register or login
You must be logged in to like or follow. Please register or login to continue.