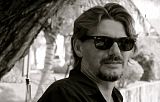 Sy Prevost (Gagné)
Mont-Royal, Canada
In Gallery
More artworks by this artist
Certificate of authenticity
Yes
Scuplture of the Just For laughs mascotte called ''Le Bonhomme''. I the arms of The Co-Founder and President of the English portion of the festival Andy Nulman. Andy is one of Sy's first supporters and is responsible for his descission to put a emphasis on his artistic carreer. The sculpture not sits next to an original Andy Warhol in Andy's home.
Leave a comment
You must register or login
You must be logged in to like or follow. Please register or login to continue.