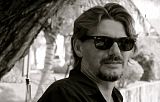 Sy Prevost (Gagné)
Mont-Royal, Canada
In Gallery
More artworks by this artist
Certificate of authenticity
Yes
Sy Prevost Gagne rendition and montage of Bowie and Louise Lecavalier during their collaboration since 1988. Sy had the honour of breifly meeting Bowie while in Montreal visiting Louise at her studio! This is the second from the POP ART series called ''POP sur La Main''/''POP on the Main''.
Leave a comment
You must register or login
You must be logged in to like or follow. Please register or login to continue.