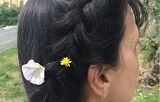 sylviane marie nardini
Clermont-Ferrand, France
More artworks by this artist
MEDIUM
Acrylic, Oil, Mixed media
Peintures mixed media. J'ai utilisé de la peinture vitrail, céramique, moon, prism sur un joli fond iridescent en acrylique rose et blanc nacré. Du mouvement, de la douceur pour votre intérieur. Châssis toile coton 35 x 27.
Leave a comment
You must register or login
You must be logged in to like or follow. Please register or login to continue.