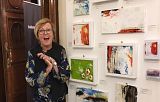 Sue MacDougall
Auckland, New Zealand
In Gallery
More artworks by this artist
Encaustic or hot wax painting is an ancient art form that predates oil painting, developed initially by the ancient Egyptians and used by both ancient Greek and Roman art. Hot beeswax, damaar resin and colored pigments form a basis of this art medium. This natural base has dimensional and luminous qualities which has endless versatility. Encaustic paintings do not deteriorate with age as these paintings are extremely archival.
Leave a comment
You must register or login
You must be logged in to like or follow. Please register or login to continue.