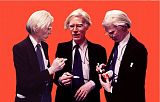 Stephen Verona
Los Angeles, United States
More artworks by this artist
A triple portrait of iconic artist Andy Warhol Signing a Campbell's Soup can, & standing ready to sign anything put in front of him as well as signing himself. Number 1 of this image is in the permanent collection of the Getty Museum in Los Angeles.
Leave a comment
You must register or login
You must be logged in to follow. Please register or login to continue.